Every home seller wants to receive a mind-blowing offer from a serious buyer.
But that's easier said than done. 
Here's why…
Many experienced real estate agents don't want you to know about the secrets that can help you sell your home faster and for the best price. 
There are two reasons for this:
They want to gain an edge over their competition — so they'll only share some of these tips with you if you hire them.
They don't want to provide you with any pointers that will give you insight into how they might favor their interests over yours.
These factors can make it difficult to find home selling recommendations you can trust.
Plus, the generic advice you find online isn't always sufficient.
This is where having insider knowledge comes in. 
I have two decades of experience in the real estate industry (10+ as a realtor).
And I want to share the best-kept secrets so you can maximize your profits and attract the right buyers.
Here are 11 tips for selling your home to help you secure the best offer.
1. Understand buyer contingencies
Many homeowners only consider price when selling a house.
But the price you get from a buyer doesn't matter if you don't understand how a contingent offer can impact your sale.
A contingency is a condition in a buyer's offer that needs to be met before the transaction can close. 
Common contingencies include:
Appraisal
Inspection
Loan approval
A buyer can submit an offer for your home with one or more contingencies.
But you have the power to negotiate these terms.
Here's what you want to keep in mind…
A contingency can be the reason why you'd need to put your house back on the market. 
How?
Because contingencies protect a buyer by allowing them to back out of the sale and get their deposit back for that contingency reason.
This is why it's important to review any contingencies when evaluating an offer. 
Here's an example…
Say you get two offers.
One offer includes an inspection contingency and is $20,000 higher than the other offer that doesn't include any contingencies.
In this situation, you'd have a decision to make. 
Do you:
Accept the higher offer and risk the buyer renegotiating with you or backing out?
Accept the non-contingent offer?
Negotiate the price with the non-contingent offer using the other offer as leverage?
This is only one example of many.
But the point is this…
Be sure you understand any contingency a buyer includes in the purchase contract.
Having that knowledge will empower you to better assess the potential risks and rewards of any offer for your home.
2. Price your home with the right data
The price you list your home at will have a direct impact on when you receive an offer and for how much. 
Overprice your house, and it will sit on the market and sell for less than it should.
But price it right, and you'll put yourself in the best position to sell your house faster and for more money.
"Pricing it right" doesn't mean taking a biased approach.
Because that's an easy way to set the wrong list price.
So here's what you should keep in mind…
Don't decide on your listing price without considering the best comparable homes.
The best comps are recently sold properties that are in close proximity to yours and similar in interior square footage.
These are the same properties prospective buyers will be comparing your home to when deciding what price to offer.
But here's what's important…
Don't just look at the sold price of each comp and take a stab at setting your list price. 
You need to factor in the right price adjustments.
This is done by placing a positive or negative dollar amount for key differences between your home and each recently sold property.
These can include variations in square footage, condition/features, number of beds/baths, and  location on the street. 
And that dollar amount is added or subtracted from the sold price of the comp.
Making the right price adjustments is the secret to listing your house at the right price.
Because doing so can prevent you from overpricing (or underpricing) your home.
The best way to do this?
Get a comparative market analysis (CMA) from a local real estate agent who has recent selling experience.
But it needs to be from an experienced agent who you feel confident won't recommend the wrong price for their benefit.
Here's how you can do that…
3. Avoid agents with a history of dual agency
There's a "hidden code" many real estate agents don't want you to know about.
Dual agency.
A dual agent is a realtor who represents both the buyer and seller in the same transaction (also known as a transaction agent/broker in some states).
Some home sellers think that having their listing agent also represent the buyer can streamline the selling process.
In some cases, it can.
But here's a secret you probably haven't heard…
Hiring a real estate agent who has a history of representing both parties can be detrimental to you as a seller.
Why?
Because it's a hint about the type of person who will be selling your home.
An agent with an above average percentage of these sales is someone who prioritizes scoring two commissions from a single transaction.
In other words…
This is someone who cares more about making more money than about representing a seller's best interests.
These are the real estate agents you should avoid. 
Even if they come highly recommended by a friend or family member.
Instead, make sure your agent has a lower than average percentage of these sales compared to other agents in your area.
Because these are the agents who are willing to place your needs above their own financial gain.
This is the reason why we analyze this agent statistic when matching sellers with top agents in their area.
And the reason why this is a key step in knowing how to choose the right realtor when selling.
Based on the data we analyze, 10-15% (depends on your area) is the maximum percentage of sales your agent should have where they represented both parties in the same sale.
4. Don't get locked into a listing agreement
A listing agreement is exclusive between you and your realtor and usually lasts for six months (but can be negotiated).
It also doesn't give you the option to cancel.
Meaning you're bound to your agent for the duration of the contract.
This is why some agents will put your listing on the back burner — or intentionally tell you your home is worth more than it is.
Because it essentially "guarantees" their commission as long as your house sells.
So put this tip in your back pocket before signing a contract with a real estate agent…
Verify that you have the option to cancel at any time before you sign the agreement with your realtor.
It's a red flag if an agent isn't willing to provide this flexibility.
Their unwillingness to "put their money where their mouth is" serves as a clear indication.
But giving you the option to cancel signals that they're willing to back up what they're telling you (the reason why we require SoldNest agents to do this).
Plus, it keeps your listing agent motivated as they're no longer guaranteed a commission. 
And a motivated real estate agent can help you sell for a higher price, faster.
5. Tackle inspection repairs before listing
Having your property inspected before putting it up for sale can pay dividends for you (even if you're selling your home as-is). 
Here's why…
Your house can be completely remodeled (or not), but potential buyers still won't know what's "beneath the surface."
This leaves them with unanswered questions when deciding how much to offer.
A pre-listing home inspection helps alleviate those concerns. 
But making the recommended repairs on the inspection report can pay even bigger dividends.
Because making the right repairs when selling a home can:
Give the buyer more confidence in submitting their best offer
Decrease the chances of them asking for repairs
Reduce the likelihood of the sale falling through
So you should address any issues found during the inspection.
And here's the key aspect with this tip…
Make sure you provide a list of the repairs you've made to prospective buyers.
Many sellers will make repairs but forget to disclose them up front.
This forces potentially interested buyers to assume that the repairs haven't been completed.
You can avoid this by simply listing the repairs on a Word document and attaching it to the inspection report.
Making repairs up front also shows buyers a sense of "good faith," which can go a long way when negotiating. 
Plus, it shows transparency.
And a transparent home seller increases buyer confidence, which can easily lead to a stronger offer.
6. Don't make excessive improvements
Does it hurt to make improvements when selling your home?
Of course not.
But not all improvements pay off. 
The upgrades that will maximize your profit are the ones that have a visual impact on buyers. 
Because an enhanced visual appearance ignites a prospective buyer's emotional decision making. 
And that emotional decision making can lead to selling for more money.
But you don't need to go all out to benefit from that. 
As you're getting your house ready, think of smaller improvements instead of bigger ones.
The kitchen is almost always the main attraction for buyers, but it's also the most expensive. 
So don't waste resources on fully remodeling a kitchen. 
Make smaller updates instead.
Repainting cabinets and adding hardware can save you a boatload of money.
And upgrading older appliances to stainless steel is a no-brainer if your kitchen is in decent shape. 
But don't buy expensive appliances. 
The point of making this upgrade when selling is for the visual impact of the stainless steel.
It gives buyers the impression that your home is "updated" — the opposite of black and white appliances.
Older bathroom? 
Don't gut the entire thing.
Instead, replace the vanity, shower frame, and/or fixtures.
Does your front yard lack color?
You don't need to hire a professional landscaper when selling your house.
Take the DIY route by doing something such as planting colorful perennials and annuals yourself.
A few hundred dollars at any home improvement store can go a long way and make a huge difference in your curb appeal.
And so will this…
7. Paint your grass
Can you really paint your grass?
Yep.
Painting sod is a secret many home sellers are unaware of.
Here's an example of what grass with brown patches looks like before applying paint: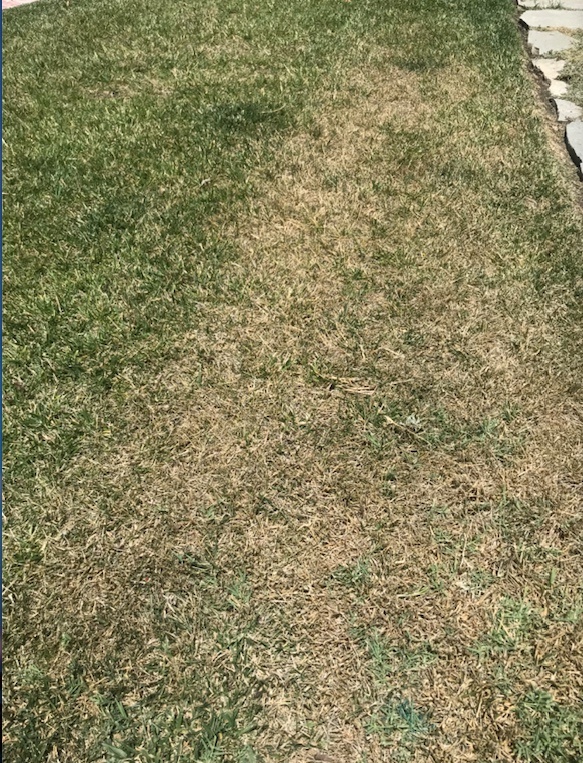 And here it is 20 minutes later: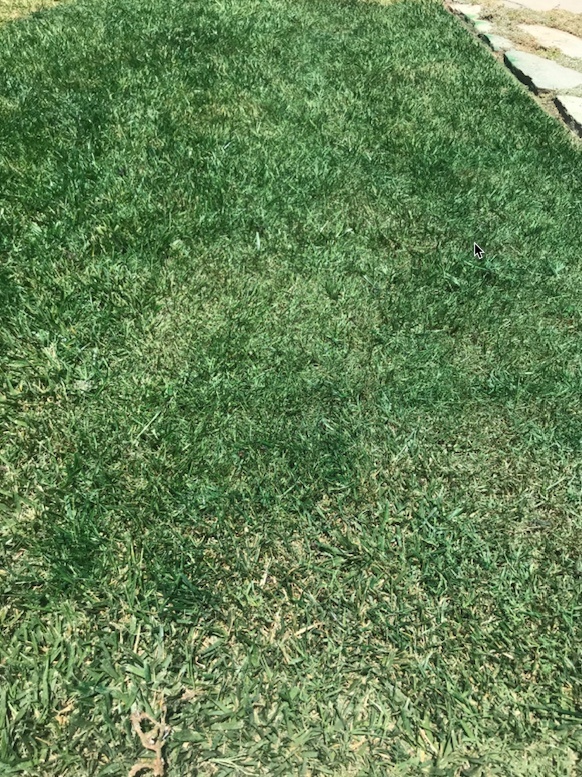 The grass in your front yard or back yard can benefit from an enhanced color.
But your front yard will have a greater impact because it boosts your curb appeal with buyers.
And painting your grass can be pretty quick.
Plus, it's cost-effective. 
A 32 oz. bottle of concentrated grass paint costs ~$25 at Home Depot and can cover ~1,000 sq. ft. (safe for pets and humans). 
Mix it with water in a sprayer and start applying. 
Keep these five things in mind if you utilize this tip:
Ensure the lawn is dry and freshly mowed.
Choose a sunny and calm day for spraying.
Set the spray wand to a fine mist for an even application.
Test the color on a hidden spot before applying and dilute with water if needed.
Apply the spray in a circular motion and consider a second coat for a richer color.
8. Don't market negative selling features
The right marketing strategy will maximize the exposure of your listing and attract the most buyers.
One of the ways it does this is by highlighting your home's most appealing features through:
Your property listing description
Professional photography
Video
Custom brochures
2D floor plans
But do you know what else the best marketing plans do?
They avoid showcasing any negative features.
The entire point of marketing a home for sale is to get prospective buyers to the property. 
And drawing attention to negative aspects of your home could easily discourage buyers from visiting.
This is why you should steer clear from highlighting any undesirable features such as:
A dark room
Outdated fixtures
A small backyard
Old appliances
Single pane windows
Wood shingled roof
Closed layout
Close proximity to road noise
Instead, shift the focus toward positive features such as ample storage space, natural lighting, or any recent upgrades you've done. 
You should also refrain from emphasizing any features that might only be negative to some.
For example, certain cultures place a lot of importance on the direction and placement of certain attributes.
One example is stairs facing the front door. 
If you have a two-story home with your front door opening to the stairs, then avoid showing this in your photos.
Instead, make sure the photographer stands at a different angle.
Remember…
The goal is to present your home in the best light possible. 
You do this by focusing on the positive aspects of your home and avoiding the negative features. 
Incorporating this approach into your marketing strategy will captivate more buyers, which will increase your chances of getting the best offer. 
9. Tailor the staging for your perfect buyer
The ideal buyer for your home fits within a certain demographic. 
Your marketing plan should target this audience. 
And home staging should be a part of that. 
But don't just stage your house to stage it. 
Confirm your target buyer and put a game plan in place to make the staging appeal to them. 
For example, the average home in a suburban neighborhood is most likely going to appeal to a younger family. 
Staging one or two of the bedrooms as kids' rooms would be most appealing to this audience. 
But you wouldn't do this for a condo in an urban area. 
The ideal audience for this property would most likely be a single person or a younger couple. 
So staging one of the rooms as a home office would most likely work best. 
This could also be an option for a home in a retirement community.
But staging one of the rooms as a den could work better. 
The key is to stage your home for the right buyer. 
It works. 
Why?
Because it makes it easier for buyers to envision themselves living in your home. 
This reduces the number of concerns they'll have during showings and open houses.
And fewer concerns from potential buyers will increase the chances of selling your home for top dollar.
10. Vet the buyer
Getting an offer for your home might feel like a huge relief.
But it's critical you vet the buyer's financial position before getting too excited.
Because having to relist your home can flag it as "problematic" to other prospective buyers.
So here's what you should do (if you're selling with an agent, make sure they do this)…
First, request that any buyer submit these two things with their offer:
Pre-approval letter
Proof of funds (liquid assets, 401k, etc.)
The pre-approval letter will include the loan officer's contact information and state how much the buyer is pre-approved for.
The proof of funds verifies that the buyer has enough for their:
Down payment
Closing costs
Remaining assets that will be required from their lender
Next, contact the buyer's loan officer to:
Verify that the buyer is well qualified
Extract additional information
Confirm that the buyer has been pre-approved based on their credit score, income, and assets. 
And then take advantage of this pointer…
Ask about the buyer's debt-to-income ratio (monthly expenses divided by their gross monthly income).
There's a certain percentage lenders use to qualify a buyer (~42-50%). 
If the percentage is much lower than that (~35% or less), then you know the buyer is well qualified based on their income.
But this also does something else…
It eliminates the opportunity for the buyer's agent to say that the buyer can't come up in price due to income qualifications (common when negotiating). 
This gives you leverage when negotiating a higher price for your home.
Hints like this are the ones that can help you sell your house for the best price.
Which is why vetting a homebuyer is key.
11. Evaluate offers objectively 
Looking at an offer from an objective point of view is your trusted compass in the turbulent sea of negotiating.
This isn't easy to do.
But it's imperative that you step back from the emotional attachment to your home.
Because doing so will safeguard your financial interests and help you make informed decisions. 
For example…
Maybe you get a buyer who offers a price lower than what you're expecting. 
That doesn't mean that they're not willing to come up to a higher number.
A lower than expected offer price can mean that the buyer is using that number as a "starting point" and they want to negotiate. 
So don't take it personally.
Instead…
Assess the price, terms, and potential risks associated with each offer without clouding your judgment with subjective preferences. 
Staying rational like this can help you avoid losing a serious buyer who is willing to offer more money for your home.
Here's the point…
Think of your house as a product. 
Adjust your frame of mind so your decisions prioritize the optimal home selling result.
Doing this will put you in a better position to secure the best offer for your property. 
Conclusion
Selling a house can be intimidating.
But having the right information can help you obtain a mind-blowing offer and have a successful sale. 
These hints for selling your home are designed to help you do just that.
Want to learn more about the selling process?
Dive deeper into our comprehensive guide that will walk you through the steps of selling a house.