Get the most money for your home, quickly.
Find the most trusted real estate agent to sell your home. Create a customized
plan that shows you how they'll sell your house fast and get you top dollar.
Not all top agents have your back.
We find the ones that will.
The best part? We ask the questions that you don't. You'll see their answers that
separate them from every other top real estate agent you'll speak to.
Want to sell your house fast? For top dollar? You'll need three things.
Optimized appearance

The key is to only spend time on things that pay off. Our home valuation tool, the Nestimator, finds the best home upgrades that will increase your value. The added value for each upgrade is specific to your exact house. Choose the ones you're interested in and add them to your plan. Your agent can verify they're worth making and has all the contacts you'll need.

Skip the headaches and spend less time prepping

Minimize your upfront costs and boost your value

A top real estate agent who has your back

You need more than numbers and reviews. The Nestimator analyzes thousands of home sales to find the best real estate agents near you. We only recommend the ones who have the most trusted answers to the most stringent questions. You'll see the data points that make them elite, why they're recommended, and their answers that make them head and shoulders above their peers.

Get top dollar with a trusted expert negotiating for you

Eliminate your fear of selling with the wrong person

The best asking price

Set your asking price too high and you'll turn buyers away. Set it too low and you'll leave money on the table. When you tell the Nestimator what makes your property unique, it's able to factor in your condition, helping it arrive at a more accurate value. You can use that number as an excellent starting point when deciding how much you should ask for your house. Your agent will recommend the perfect number.

Avoid having your house languish on the market

Get the best recommendation to sell for top dollar
Not ready to start? No problem.
See your plan now and come back to it later.
SoldNest agents are highly-vetted.
We ask the questions that you don't.
Finding an agent you can trust is nerve wracking. We know that. The unwanted sales pitch. Not knowing which questions to ask. And that little voice asking you if that person is just telling you what you want to hear.
So we do something different. We don't invite all top real estate agents to SoldNest. We only invite the ones who are able to pass our interview process with flying colors. The ones whose answers will make you want to hire them before someone else does.
Avoid a catastrophe
The real estate industry is littered with opportunity for top agents to put their interests before yours. Without you ever knowing.
The very best real estate agents will never risk their integrity for a commission check. And they make a commitment to you that other top agents don't.
But finding them isn't easy. Numbers can be deceiving and reviews don't tell the whole story.
You need to ask the right questions. And get the right answers. We do that better than anyone else.
Don't just take our word for it
Joe and Peggy

San Jose, CA

"I don't think there's anything more we could have asked for. Our agent provided us with excellent advice that helped us get $80,000 over the asking price. The service our agent provided was excellent from start to finish!"

Rami and Amy

San Jose, CA

"It was our first time selling so we had a lot of questions. Our agent was extremely helpful explaining the steps and made the entire process pretty easy. There was never any doubt about wondering if we made the right choice."

Eddie and Lucilla

San Jose, CA

"The outstanding 5 star service went way beyond what we've experienced with other realtors in the past. We are impressed with the SoldNest business model and highly recommend their comprehensive services."
The best real estate agent will
make you the most money.
The key to selling your house fast and making the most money is choosing the right agent.
With SoldNest, you get a top real estate agent with a proven track record. Someone who has been highly-vetted. Who will have your back. Because that's what you really care about.
Easier – Getting ready can be stressful and cause all sorts of headaches. You'll see how your agent can make it easy.

Faster – Finding that perfect buyer isn't luck. Get a sneak-peek to see how your agent plans on finding them, quickly.

More Money – The best real estate agents negotiate as if your home was theirs. See the steps they'll take to get you top dollar.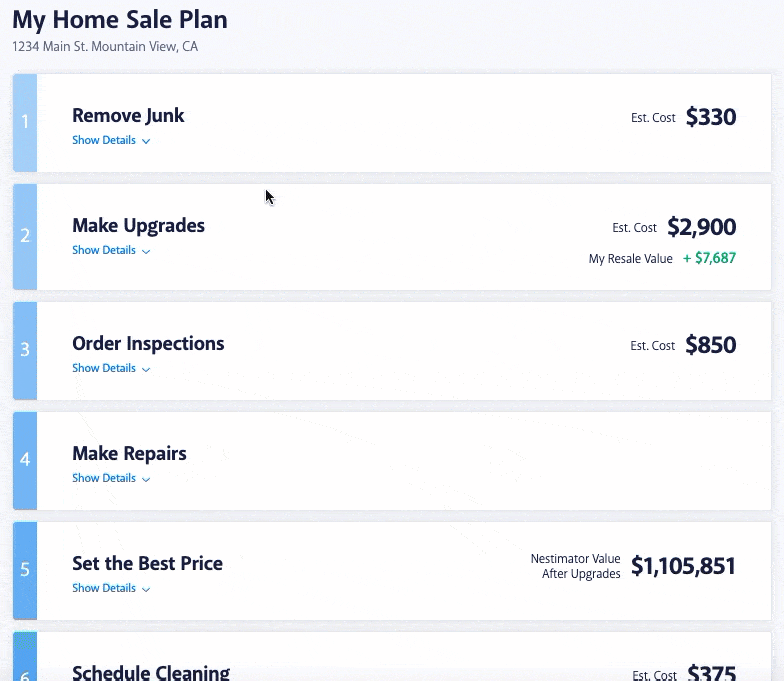 What will your plan look like?
Your questions, answered
How do you find top agents?
The Nestimator analyzes every detail about every real estate transaction in your area, including who the selling agent was. Because of this, we're able to see which agents sell a lot of homes in your area and how they stack up against their peers. But these numbers can be deceiving. A high number of sales can just mean that the agent markets themselves well. An agent who has a higher sold-to-asking price ratio or who sells homes faster can mean that they set the asking price below market value. Although these numbers are important to look at, this is not the only criteria we consider.
If a top agent meets our minimum threshold for these numbers, then we ask them a series of questions to determine if their approach to selling a home is aligned with ours. Many of the questions we ask are the ones that many home sellers don't ask — not because they don't want to, but because they're unaware which questions can ensure they're working with a top agent who is committed to putting their client's interests first and has the absolute best plan for their home.
If an agent doesn't answer any of the questions with what we feel is the right answer, then we will not invite them to become a partner agent. We invite the ones who are able to answer all of the questions and leave zero doubt about their integrity and approach to selling a home. We display the questions and answers on the agent's profile so you can see what separates them from other top agents.
There are plenty of great agents out there, but there are also many top agents who take advantage of the opportunities that allow them to put their interests before those of their clients. We believe that finding the perfect agent shouldn't just be about looking at their sales performance; it should also include asking the right questions and getting the right answers.
Does SoldNest employ its own agents?
No, we do not. SoldNest is a marketplace that matches home sellers with the most trusted agents in their area. Our broker's license allows us to make these connections without being required to employ our own agents.
How does SoldNest make money?
We get a referral fee from our partner agents, only after you have a successful sale. Agents do not (and cannot) pay us any monthly or upfront fees to join. SoldNest agents are willing to pay us a referral fee without passing any costs to you, because when we refer them to a potential client, they save the cost they would normally invest to acquire a new client. Our service is 100% free to you, without any obligation.
Will someone contact me if I enter my address?
Nobody will contact you. The agents we recommend only contact you if you ask them to.
We do ask for your email, but only to send you personalized tips and educate you about the process. We never share any of your information, and you'll get zero spam and can opt-out at any time.
We know that you have a lot of questions. We also know that finding the right agent is a big decision. Just know that we're here to help you. Whether it's about SoldNest or just the selling process in general, we'd be more than happy to answer any questions. We're only a click or phone call away. And don't worry, you'll never get a sales pitch from us. We hate them too.
Get a plan that will make you
the most money, quickly.
Your best real estate agent doesn't contact you unless you ask them to.