Signing a contract with a realtor to sell your house is a major commitment.
You're trusting that agent or broker to have your best interests at heart.
While great real estate agents and brokers do exist, others are experts at using the listing agreement against you.
This almost always happens because the seller doesn't really know what they're signing.
They assume their agent or broker is trustworthy and sign wherever they're told.
But here's the thing…
A listing agreement is a binding contract that doesn't just kick off the working relationship with your agent. 
It incorporates important details that can have a considerable impact on:
Whether your home sits on the market
Your selling price (potential difference of thousands of dollars).
Not knowing what you should be aware of before signing can be the reason why you have a bad home selling experience.
But recognizing what you should scrutinize prior to endorsing the agreement can do the opposite. 
That's what we're going to discuss.
I'm going to tell you everything you should be mindful of when executing the contract with your realtor.
Here are seven critical things you should know before signing a listing agreement.
1. Don't sign for a long duration
The listing agreement has a start and expiration date. 
That time period gives your realtor exclusivity to sell your home.
That's because the exclusive right to sell agreement is the contract that is most often ratified between a home seller and their listing agent. 
Many realtors will default the duration of the agreement to six months or longer.
And some will tell you that this is mandatory or required by the brokerage they work for.
It's not.
The time frame in the listing contract is negotiable.
Why would a real estate agent want a longer duration?
Because it gives them more time to sell your home.
And more time means more security for them to earn a commission. 
This can be the reason why your listing might feel like it's in limbo after you sign the contract.
While you don't want a time frame that will shortchange your realtor, you shouldn't have one that will make them too comfortable.
This should be clearly defined before you sign the listing agreement.
You can do this by estimating the time frames for the important steps of the selling process.
Getting your house ready (usually a few weeks to a few months)
Estimated time your home will be on the market (your realtor should tell you)
The time from when you accept the buyer's offer until closing (~21-45 days).
Sum up the estimated time frames for each of these and then tack on 2-3 weeks as a buffer.
Using this approach to determine the listing period should result in a duration that is fair for your realtor, yet doesn't allow them to become too complacent.
2. Avoid lopsided commissions
You'll pay a commission to your listing agent as well as the buyer's agent (standard).
Those realtor fees will be outlined in the listing agreement. 
Two things you should look for before signing the contract:
The total percentage of real estate commission
The percentage being paid to the buyer's agent.
Any prospective real estate agent should clearly explain both of these to you –– before asking you to sign.
Many of them will.
But some realtors will intentionally avoid discussing the percentage being allocated to the buyer's agent. 
Why?
Because their commission percentage may be higher than that of the buyer's agent. 
For example, let's say the total commission is 5%, but the percentage going to the buyer's agent is 2%.
This means 3% is going to your real estate brokerage (and your agent).
It would look something like this in the listing agreement: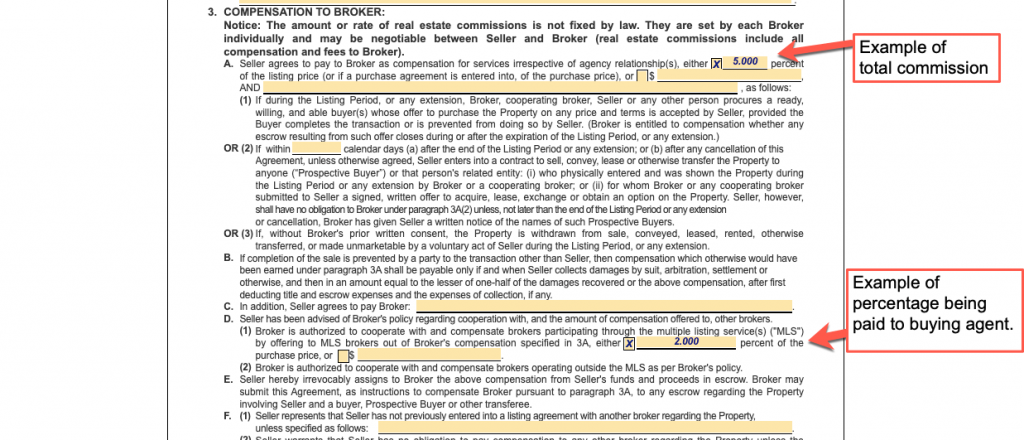 This isn't typical.
The total real estate commission is usually split 50/50 between both agents.
Offering a lower than average commission to the buyer's agent can hurt your listing.
How?
Because a buyer's agent knows the commission being offered on a home for sale before they show their clients (it's listed in the MLS). 
So you'll run the risk of agents favoring other listings over yours. 
This is why you should consider not signing a contract with a realtor if you see the buyer's agent's commission is less than half of the total commission in the agreement.
Instead, you should inquire about it and base your decision on the agent's reasoning. 
3. Eliminate dual agency
Part of your realtor's job is to sell your home for the best price. 
It's nearly impossible for them to do that if they're also representing the buyer.
In most states, the listing contract refers to this as dual agency. In others, it's referenced as the agent working as a transaction agent/broker. 
Although slightly different, I think of this scenario as being similar to an attorney representing a plaintiff and a defendant in the same case.
How can they possibly work to get the best results for each party?
They can't.
For this reason, you should eliminate the possibility of your realtor being able to also represent the buyer in the sale of your home.
But the listing agreement doesn't include a simple option for a seller to do this.
So you'll need to ensure this language is added in the contract before you sign with your realtor.
You can do that by letting them know that you'd like additional terms added to the contract.
Every listing agreement includes a section where this can be included.
The added language can be something simple such as, "[Realtor Name agrees to not act as a dual agent.]"

Removing dual agency before signing puts you in a better position to sell for the best price.
How?
It ensures your real estate agent won't advocate for the buyer.
But it doesn't necessarily mean they have integrity. 
Because a listing agent can agree to not represent the buyer but still have an alarming history of acting as a dual agent. 
This is one reason why we ensure an agent has a low number of these sales before matching them with a seller. 
It's a key stat that shows which realtors have integrity. 
4. Be aware of opting out of the MLS
The default language in the listing agreement states that the seller is agreeing to list their home on the MLS (multiple listing service) –– a database where agents and brokers upload and view listings.
And your local MLS is where all of the big real estate websites get their listings from.
As a seller, you want your home on the MLS.
Why?
Because you'll drastically increase the exposure of your listing. 
And more exposure for your home increases your chances of selling for the highest price.
But there's a box in the listing agreement that can be checked stating you're opting out of having your home on the MLS.
It will look something like this:

Most real estate agents aren't going to have this box checked in the contract without discussing it with you first.
But some will. 
The ones who do are intentionally trying to limit the exposure of your listing for their benefit.
Why?
To increase their chances of finding a buyer who they can also represent in the transaction.
This is one tactic that leads to a realtor earning two commissions from one sale.
However, it often leads to a lower selling price because there might have been another buyer who would have made a better offer.
Plus, your realtor can't negotiate for you when they're also representing the buyer.
Excluding your house from the MLS can be beneficial in very specific circumstances (major structural issues, high-profile seller, etc).
But if you want to give yourself the best shot at selling your home for top dollar?
Then you want your listing marketed to as many buyers as possible.
And your local MLS is a big contributor to that. 
So before you sign the listing agreement, make sure your realtor isn't excluding your house from being listed on the MLS.
5. Ensure you can cancel the contract
Sometimes the relationship with your realtor won't go as planned.
And you'll want to terminate the listing agreement. 
The issue?
The contract you sign with a realtor doesn't have a cancellation clause. 
This can make for an uncomfortable situation (and conversation) if you feel the need to move on from your realtor.
We help sellers avoid this by ensuring the listing agent we match them with won't lock them into a contract. 
Some realtors are understanding and will let you out of the contract if they think you have a valid reason. 
But many won't. 
You're likely to get pushback and/or be told that you're still liable for the commission.
Here's how you can steer clear of this…
Before you sign the listing agreement, make sure you have the option to cancel at any time –– without owing any commissions.
Inquiring about canceling is one of the key questions to ask a real estate agent when selling.
Because not being tied into a contract doesn't just give you flexibility if you need to switch agents. 
It also relieves the sense of "security" that agents have after signing a listing contract with a seller.
They're no longer "guaranteed" a commission because they know they can be fired at any time. 
This can drastically increase your realtor's motivation.
Plus, they'll be more inclined to prioritize your listing.
And a motivated realtor who prioritizes your listing is exactly what you want when selling your home.
6. Look at the extended protection period clause
There's something in the listing agreement that many sellers are unaware of before signing. 
The extended protection period clause.
This protects the seller's broker from not being paid a commission if the property is sold to a buyer who:
Viewed the property during the listing period stated in the contract.
Bought the property after the listing agreement expired or was canceled.
For example, let's say the agreement you signed with your realtor expired (or was canceled) –– so you had to restart the process of hiring a realtor to sell your house.
And the buyer you eventually sold it to previously viewed your home when it was listed with your first realtor. 
You would owe a commission to your first realtor's brokerage if that realtor gave you the name of that buyer. 
In other words, you could be liable for two commissions in this scenario: one to the realtor who sold your home and another to your first realtor.
The listing agreement provides an opportunity for you to prevent this from happening. 
There's a section that describes this clause and has a place to insert the period of time it's good for. 
Pay attention to the number of days a realtor has included in the contract before you sign.
30-45 days is not uncommon.
Anything more than this is a red flag because some realtors know that you'll need to mention the number of days to your second realtor if you need to fire them.
And they know that many realtors won't take a listing if the number of days is longer than it should be. 
This increases the chances of you almost being forced to retain their services.
So make sure you're aware of the extended protection period clause in the listing agreement before you put pen to paper. 
7. Be aware of an inflated list price
Watch out for the proposed list price in the contract before you commit to signing with a realtor.
Some real estate agents will intentionally suggest an excitingly high number during your initial listing consultation. 
Why do they do this? 
They're hoping that you'll be swayed by the prospect of more money.
But here's the catch: This approach often results in a property sitting on the market longer than it should.
And the longer your home is listed, the higher the chances that prospective buyers will start to wonder if something is wrong with it. 
So the illusion of selling for a magical price can backfire.
Because homes that remain on the market for an extended period often end up selling for less than they could have if they had been accurately priced from the start.
Realtors promising a high list price in the agreement can be persuasive.
And the experienced ones can be extremely persuasive. 
But it's important to be savvy about this tactic before signing the listing agreement. 
Do your own research on local property prices.
Look at the selling price of recently sold homes that are close in proximity and interior square footage. 
Then compare the key differences, including condition, lot size, bedrooms, bathrooms, square footage, and other property features. 
But keep your estimate to yourself. 
Your opinion on the list price is one of the things you shouldn't tell your real estate agent. 
Instead, look at the realtor's proposed price in the listing agreement and listen to their feedback.
And if their price seems overly optimistic?
Feel free to trust your instincts.
Doing so can prevent you from signing a contract with a bad real estate agent.
FAQs
Do you have to sign a contract with a realtor to sell your house?
Yes, if you choose to sell your house with the assistance of a realtor, you will need to sign a contract. A real estate agent won't invest time and money into selling a home without signing a listing agreement. 
What happens when you sign a contract with a realtor?
When you sign a contract with a real estate agent, you're officially enlisting their services to sell your property. The contract outlines the terms of their services, including the agent's commission, the listing price, duration, and other obligations. This gives the realtor the ability to begin marketing your home and provide you with support to finalize the sale.  
What happens after a listing agreement is signed?
You're giving your agent the exclusive right to sell your house after signing an exclusive right to sell listing agreement. So in the eyes of a real estate agent, once you sign the listing contract, that potential commission is only theirs to lose. As a result, this is when a realtor will usually start guiding you through the process and implementing their plan to get your home sold. 
Conclusion
Knowing what you're agreeing to before signing a listing agreement is critical.
Make sure you have a grasp on the important details such as the:
Length of the agreement
Real estate commissions
Impact of dual agency
MLS exclusion
Option to cancel
Extension protection period clause
List price.
And don't just assume that a realtor will tell you everything you need to know. 
Because some of them won't –– even if you think they will.
So make sure you understand the important components of the agreement prior to ratifying a listing contract.
Then use that knowledge so you know how to select the right realtor to sell your home.