Selling a house as-is can make the process a whole lot easier. 
No repairs, no home improvements, and no haggling with prospective buyers. 
But if you decide to sell your house as-is, you need to go into it with your eyes open. 
Because it can backfire on you.
We're going to cover everything you need to know about selling a house as-is so that you'll know definitively if it's the route you want to take.
What does it mean to sell a house as-is?
Selling a house as-is means that you're selling your home in its current condition, without making any improvements or repairs before or during the sale of your home.
In other words, when you sell a house as-is, the buyer gets the property exactly how they initially saw it.
What selling as-is does not mean
While selling as-is means you won't be doing any repairs or improvements to your property, it does not mean that you are relieved from certain requirements that come with selling your house.
You still have a duty of disclosure to a prospective buyer, no matter the condition of your property.
Exactly what you have to disclose when selling a home as-is will change from state to state.
Each state has its own set of real estate disclosures that need to be completed by the seller. 
These disclosures ask home sellers a series of questions that they must answer truthfully and to the best of their knowledge.
For example, when selling a house as-is in California, home sellers will answer a series of questions on two separate disclosures: 
Transfer disclosure statement 
Seller property questionnaire 
Here's an example of what they're asked: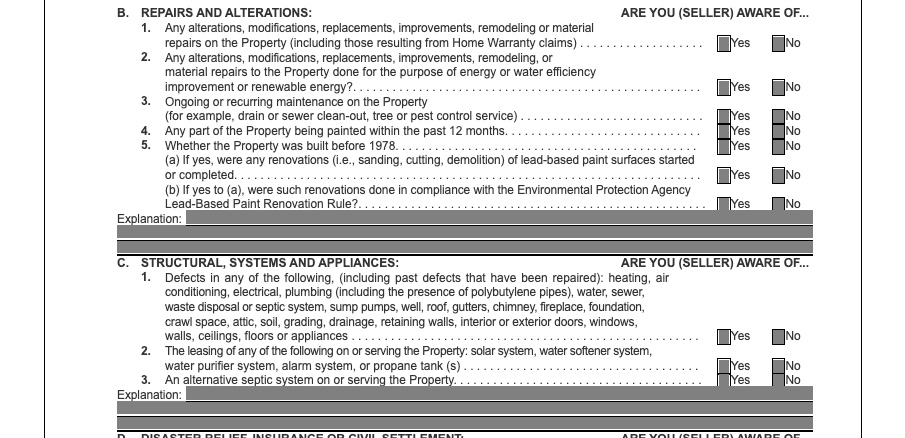 But the seller isn't the only one that is required to disclose certain information. 
Real estate agents must also disclose everything they know about the property they're selling. 
This is due to the Consumer Protection Act. 
Realtors have an obligation to disclose any fact that could influence potential buyers not to enter into a real estate transaction.
These can range from defects to road noise to the property being close to high-voltage power lines.
Here are a few other examples of what a realtor must disclose to potential buyers when they sell a home: 
Structural defects such as cracks in the foundation
Existence of mold in the home
Termite damage
Roof leaks (including stains from prior leaks)
Plumbing and electrical issues
Inoperable garage door
Water damage
Legal issues such as an encumbrance or lien on the title
Selling your home as-is doesn't change any of these legal rights.
Both home sellers and real estate agents are still legally required to disclose certain information that could discourage potential buyers from wanting to move forward with the home sale.
Options for selling a house as-is
There are two different ways to sell your home as-is.
Sell off-market to a cash buyer
There are plenty of buyers who are willing to give a cash offer for a home in as-is condition.
But offering a fair price?
That's a different story.
Cash buyers consist of two different groups:
Individual investors/flippers
Companies who buy homes for cash
Both of these groups have a business model that forces them to make you an offer below market value.
And sometimes well below market value.
This option usually works for homeowners who are in a desperate situation and need to sell their property as-is and quickly.
List your home on the open market
Selling a house as-is and listing it on the open market will almost always maximize its current value compared to selling it off the market.
This is the "traditional" approach of selling with a real estate agent and listing on the MLS.
The only home sellers who don't qualify for this are the ones who are selling a property that doesn't have livable conditions.
These homeowners are forced to sell as-is to a cash buyer.
This is because banks won't finance these properties so buyers aren't able to get a loan.
The key to listing your home as-is on the open market and maximizing its value is to make sure you use the right strategy.
This is a mistake made by many homeowners who are selling a home as-is.
More on this in a minute.
Benefits of selling a house as-is
There are three main reasons why homeowners choose to sell a house as-is: 
They don't want to spend the time and money making any repairs.
They're experiencing emotional stress and want to sell the house as quickly as possible. 
They are in financial distress and have no option but to sell their home as-is.
No matter the reason, there are three big benefits to selling a house as-is.
Save time
You'll pretty much skip one of the home selling steps where sellers make repairs. 
And if you decide to sell your house as-is to a cash buyer, you'll speed up the closing process (eliminates the need for the buyer to come up with a down payment and get a mortgage). 
Saving time is usually one of the main reasons why home sellers choose to sell their home in its current condition.
Save on upfront costs
Repairs and improvements can add up, especially if your home is a fixer-upper. 
Whether you have the funds or not, you'll save on out-of-pocket expenses.
Eliminate some stress
You probably already have some anxiety about selling your home as you're reading this. 
Selling as-is can prevent that from increasing by eliminating some of the work needed when getting your home ready to sell. 
Drawbacks of selling as-is
Every home seller wants an easier home sale. 
Selling as-is can definitely help you achieve that. 
But when something sounds good to be true, it usually is. 
So now let's talk about the cons of selling a house as-is.
Fewer offers
No matter what type of real estate market you're in, the condition of your home plays a big role in how many potential buyers are interested in making an offer. 
If you forgo making any repairs and/or improvements, you'll reduce the amount of demand from homebuyers.
Here's why the demand from potential buyers will drop when selling a house as-is:
Buyers may assume there's something seriously wrong with your house (especially if it's in poor condition).
They might think that if you can't afford to fix it, the house is not fixable.
Many home buyers want a home that is in good to excellent condition (move-in ready). 
Some lenders won't approve mortgages if the house is a "fixer-upper" and in poor condition.
Longer time to sell
If you decide not to sell your house as-is to a cash buyer for a discount, then there's a chance that your house will sit on the open market. 
You'll save time prepping, but the overall listing process to sell your house can take longer compared to not selling your home as-is. 
You could leave money on the table
Not making repairs or home improvements before listing your house for sale can leave your wallet skinnier at the closing table.
You'll lose the "sweat equity" earned by making repairs and doing the work before putting your house on the market.
For example, if your home is worth $500,000 as-is but could fetch $550,000 with just $12,000 worth of repairs and upgrades, it would clearly be worth doing. 
There's a reason why there are so many real estate investors (the ones who are cash buyers and seeking a deal), including some of the big-name real estate companies, who are willing to make you an all-cash offer.
Lowball offers
When potential buyers see a house listed for sale that needs work, many of them automatically assume that the seller is in a desperate situation (especially if only minor repairs are needed). 
Of course, you're wanting to sell for a fair price but may end up getting an offer that you'd probably consider an insult.
Have the right strategy
Selling a house as-is doesn't work how most home sellers think it does.
Here's what I mean…
You're probably thinking that listing your home as-is means that a buyer can't ask you to make repairs, right?
They can.
In the offer contract, the buyer has the option to include an inspection contingency.
This allows them to have their own inspections completed.
And it also allows the buyer to renegotiate with you by asking you to reduce the sale price or by asking you to make repairs.
If you don't agree to their request, they have the option to back out and get their deposit back.
This is the last thing you want to happen.
It increases your chances of a dragged-out home sale and selling below market value.
And it could put you in a position where you have no other choice but to make repairs.
But you can reduce the chances of this happening if you use the right strategy.
It will help you sell faster and for the best price if you decide to sell your house as-is.
Here's how to do that.
Focus on the positives
When selling a home as-is, the first thing to remember is that you need to take the focus away from the negatives (defects, poor condition, how much work is needed, etc). 
If required, these still need to be disclosed, but they shouldn't be the focal point when marketing to buyers. 
Your selling features should.  
Every home has them, even when selling as-is. 
Here are a few examples:
Top-rated schools
Priced below market value
Family-friendly neighborhood 
If your house needs work or if it's outdated, using something in the listing description like, "add your own artistic touch" can help prospective buyers focus on the positives.
The best real estate agents know exactly how to do this.
And you know what they won't do?
They won't include "as-is" in any of the marketing. 
You and your real estate agent know that you're selling a property as-is, but you don't need to tell the world about it. 
This will just put you at a disadvantage as buyers will think you're desperate to sell your home. 
Instead, do the opposite and focus on the positives.
This will help get buyers emotionally invested, which will swing the leverage in your favor if they try to negotiate.
Get a home inspection before listing
Wondering why a home inspection is listed here if you're selling your house as-is?
Because it gives buyers more confidence when writing an offer.
They're going to have concerns about the unknowns and an inspection report will help alleviate those concerns.
Plus, it reduces the chances of them asking you to make repairs after the offer is accepted.
But getting an inspection done upfront does not mean you need to fix anything.
All you're doing is providing buyers with the key information they want to know before they put an offer in writing.
Provide prospective buyers with cost estimates
Every buyer who considers your home will factor in the cost of needed repairs.
A home inspection provides buyers with key information but it doesn't show estimated costs.
If buyers don't know how much repairs are going to cost, they'll error on the side of safety and estimate more than they should.
This could result in a lower sale price or discourage buyers from even making an offer.
Providing a list of the estimated costs can prevent both of these from happening.
You can have your agent do this for you by having them go through the inspection report and getting cost estimates for the repairs that are worth including.
You'll also want to have them do this for potential improvements. 
Improvements can be things such as:
Heating and AC
Flooring
Kitchen 
Bathrooms
Basement
Roof
But only include improvements that are currently in need of repair or very outdated, because these are the ones that buyers will be wondering about.
If you are selling with the right agent, they should have contacts with local contractors and service providers.
This will give you an advantage because the estimated costs they can get from their contacts are likely to be less than what the buyer would get quoted.
Have your agent add these costs to a Word document and attach it to the home inspection. 
This will give potential buyers a much clearer picture of how much work needs to be done to your house and what it might cost them. 
Doing this will give you more negotiating power if buyers try to lowball you on the price.
Factor "as-is" into your listing price
Putting the right list price on your home is vital, especially when selling a property as-is. 
You have to know that your home will be less desirable if you choose not to make repairs and improvements. 
A mistake many homeowners make when selling their house in as-is condition is thinking that their home is worth more than it is. 
You want to avoid this at all costs. 
Here's why…
Potential buyers are going to compare your home to other homes that have recently sold. 
They'll look at the condition of those homes, compare it to yours, and then factor in the amount of work (and time) that is needed if they were to buy your house.
You'll discourage them from wanting to give you an offer if your price isn't realistic. 
This can easily make your listing become "stale" (a.k.a "sitting on the market"). 
A stale listing is an open invitation for a buyer to give you a purchase contract with a lowball offer. 
This is the absolute worst position to be in when selling a home.
Why?
Because it's almost guaranteed that you'll end up selling for less than you should have if you had priced it right from the start. 
But this doesn't mean that you need to set the list price lower than it should be. 
It just means that you need to put yourself in the shoes of a potential buyer and know what they'll be thinking when considering your home. 
Seek advice from a trusted Realtor
Selling your house as-is can sometimes be the best option, especially if you're short on time, energy, or money for renovations.
But many sellers end up going the as-is route and experience a home selling disaster.
The reason?
They got bad advice from a bad real estate agent.
The key to a successful home sale is knowing how to choose a real estate agent with good character. 
The right one will customize a winning plan from the very start and guide you throughout the process.
And they'll make selling a house as-is easier, faster, and more profitable than you think.