Ready to sell your house but not sure where to start? 
You're probably looking for a roadmap to take you through the steps and increase your chances of a successful sale. 
A handbook that tells you all you need to know to list your home and find a qualified buyer — so you can collect your proceeds and move on to life's next chapter.
That's what I want to help you with. 
I'm going to use my nearly two decades of experience in the real estate industry to guide you through the entire process. 
Here are the steps you should take when selling a house.
The Home Selling Process in 10 Steps
The process of selling a house typically goes like this:
Let's unpack these steps so you can learn how to sell your house. 
1. Determine how long it will take you to sell 
Understanding how long it takes to sell a house is the best place to start the process. 
It makes it easier to formulate your home selling plan from the get-go (not to mention, it makes your nerves less frazzled.)
But it can also help you:
There are two selling timelines to consider.
Before listing 
Several pre-listing factors impact the time it will take from when you start the process to when you put your home on the market. 
Here are the main ones to consider…
Vetting/hiring an agent: 4-14 days
Prepping your home:

Major upgrades (kitchen, bathroom): 60-90 days
Medium upgrades (flooring, painting, landscaping, etc.): 30-60 days
Minimal home prep: 14 days

Home inspection/completing selling disclosures: 7 days
Pre-listing marketing (staging, photos, etc.): 14 days
Sum up the days for the factors that might impact your sale and you'll have a good idea of how much time you should allot before you want your home on the market.
After putting your home on the market
How long your home will take to sell after it has been listed will depend on various aspects.
You'll have control over some of these, but some will be out of your hands.
Market conditions: Supply and demand for homes in your local market can drastically affect your timeline. If there are more buyers than homes for sale, it's a sellers' market. A large inventory of listings and fewer buyers means it's a more competitive market for sellers, which can slow down your sale.
Time on the market: Many potential buyers will assume there's something wrong with your property if it's been sitting on the market longer than similar listings in your area. You can shorten the sales process by restrategizing with your agent if this happens. 
Property condition: Homes that are in good condition and don't require TLC will appeal to more buyers — so enhancing your home's appearance can help you find a buyer in a shorter amount of time. 
Asking price: Anything can be sold — for the right price — but homes priced too high risk becoming stagnant on the market. 
Location on street: A property on or near a busy street usually takes longer to sell. You can counter this by listing at a reasonable price that factors in close proximity to road noise. On the other hand, your time frame could be shorter if your home is in a quiet location. 
Use the factors listed above to determine your timeline to sell.
Then be ready to implement the right strategy.
2. Understand the costs of selling
Knowing how much you'll pay when selling can help you avoid any surprises when you're knee-deep in the process.
Here are the costs of selling a house you'll want to keep in mind.
Costs to prep your home
The amount a seller pays to prepare their home depends on the property's condition and what they ultimately choose to do.
You could save on some of these by taking a DIY approach.
Junk removal: $100–$800+
Deep cleaning: $200–$600 (depends on your area and square footage)
Pre-sale home inspection: ~$300–$700 (This can be a great investment when selling. I'll tell you why shortly.)
Repairs and improvements: $800–$6,000+
Moving expenses
Moving out of your area will cost you more than if you're buying in your local market.
But you'll still encounter some expenses if you plan on moving close to your current home.
These can include hiring movers and/or storing your belongings in a shipping container or storage facility. 
One of the biggest factors in the cost of moving is whether you box everything up or have the moving company do it. 
Closing costs
Closing costs for a seller usually include things such as escrow/title fees, the balance of property taxes up until the closing date, notary fees, attorney fees, and real estate commissions.
By far, the biggest cost for a seller are the realtor fees. 
Confirm this with your tax person, but generally, your closing costs can be a tax write-off. 
Capital gains tax
A capital gains tax in real estate is an expense you pay on the increased value of your property (also known as a real estate cost basis). 
The increased value is your final selling price minus the price you paid to buy your home (your closing costs can usually be subtracted from this number to reduce the taxable amount). 
Many sellers are free from paying a capital gains tax because they'll only have to pay it if they're:
Single and their increased value is above $250,000
Married and their increased value is above $500,000
Every selling scenario is unique, so it's best to confirm with the person who does your taxes.
3. Hire the right listing agent
The agent you hire to sell your home (also known as a listing agent) will be responsible for numerous tasks. 
Some of these include:
Marketing your property
Ensuring you complete the required disclosures 
Assisting in setting the right list price
Helping you negotiate
But not all real estate agents are good at executing these tasks.
Some home sellers end up hiring the wrong person because they don't know what makes a good agent.
So they'll base their decision on an agent's personality and likeability. 
Don't do this. 
You should like the agent you sell with, but it doesn't mean they're the right agent.
Instead, ensure you know how to find a listing agent who is best qualified to sell your home. 
Here are the qualities you should seek out in an agent to do that:
Relevant selling experience: Hiring a professional with a history of selling homes similar to yours, in your area, and in your price range are the minimum traits you should look for.
Low dual agency rate: Agents with a track record of primarily representing sellers only in a real estate transaction (and not the seller and buyer in the same sale) are often more likely to prioritize their client's best interests over their commission.
Option to cancel your contract: Sellers typically sign a listing agreement, a binding contract with their agent that lasts several months. An agent who's willing to let you cancel that contract is more likely to stay motivated because their commission isn't guaranteed.
Stellar reputation: How a real estate agent handled previous selling clients' transactions speaks volumes about how they'll handle yours.  
4. Prepare your home for sale
Preparing your home can be an emotional part of the process of selling a home.
But removing your emotions from the equation gives you the best shot at selling for the best price.
So start thinking about this as a business transaction as you begin to get your home ready to sell.
Here are the things you should focus on as you go through the prepping process. 
Declutter and maximize space
Decluttering is a task that will pay off when selling your home.
Why? 
Because it helps prospective buyers visualize themselves living in your house. 
Gather garbage bags and boxes, then go room-by-room and make these piles:
Get a pre-sale home inspection
Having a home inspection before selling is a great investment:
It boosts buyers' confidence when submitting an offer.
It reduces the chances of repair requests once an offer is accepted.
Home inspections usually include things like:
Foundation and structural elements
Basement
Attic
Electrical
Plumbing
HVAC
Review the inspection report with your agent and get their advice about whether there's any maintenance worth performing, or if you should skip doing repairs altogether.
Make minimal repairs
Tackle the repairs your agent recommends and give them a list of the ones you completed.
They can attach this to the inspection report for potential buyers to review.
Prioritize money-making improvements
Four upgrades typically increase a home's value and bring the highest return when selling:
Flooring
Stainless steel appliances
Front yard landscaping
Interior paint
But not all improvements pay off — so don't go crazy over-improving.
Ask your agent which upgrades will boost your sale price and make you the most money.
Then determine whether the amount they add to your home's equity is worth the time and investment.
Deep clean 
Prospective buyers will notice things that you probably haven't noticed in years — so be sure to thoroughly clean before listing.
Make sure to focus on scouring areas including:
Walls
Baseboards
Floors
Showers
Sinks
Toilets
Grout
5. Complete pre-listing marketing tasks
An effective marketing plan will attract more buyers to your property.
That's why having the right marketing strategy is a key component of selling a house. 
Rely on your agent to implement the right strategy and prioritize focusing on these three marketing tasks:
Stage your home
Look at this home: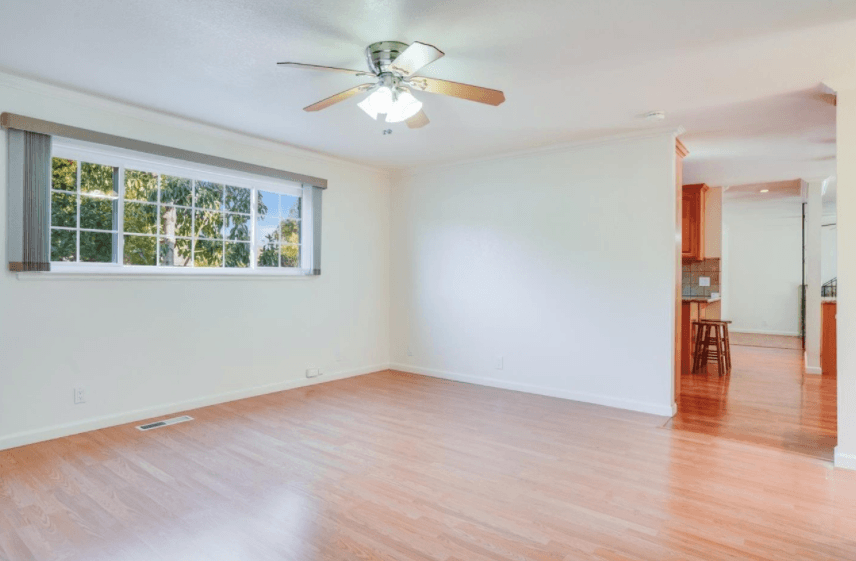 Now look at this one: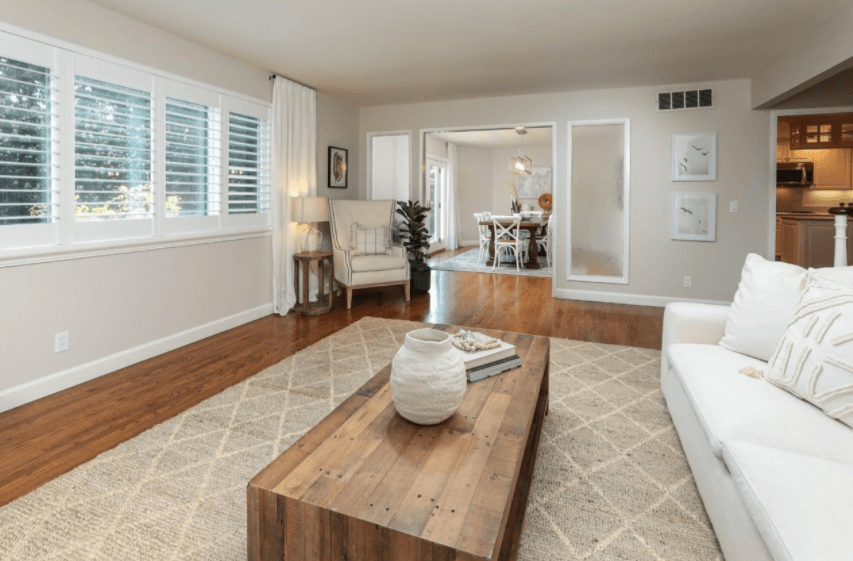 Big difference, right?
Don't think twice about staging your home if it will be vacant when selling.
Online photos of a vacant home make a bad first impression.
And a bad first impression can negatively impact your home's sale price.
You should also consider hiring a professional stager if you plan on living in your house while it's on the market.
Many stagers will provide a free consultation and suggestions about which furniture can stay and which should go.
Take high-quality photos
According to the National Association of Realtors, 90% of home buyers search online.
So your home's photos (and asking price) will be the first thing homebuyers see.
And professional photos that maximize your home's appeal will interest more of those buyers.
Most real estate agents include professional photos in their marketing plan, but here's what you'll want to do to prepare:
Get your house sparkling clean.
Turn on all lights.
Open all window coverings.
If you have any negative property features (e.g. high-voltage lines, a cramped stall shower, a shoddy backyard), have the photographer omit these.
Set the best listing price
Your home is worth what a buyer is willing to pay for it.
But how you price your home can attract more buyers AND maximize your selling price.
The "asking price" isn't how much you can sell your house for. 
If done right, your asking price can be the bait that "lures" more buyers to fetch you a higher number.
You can do this by getting a comparative market analysis from your agent.
A market analysis compares your home to:
Recently sold properties
Properties currently for sale
Pending home sales (seller accepted an offer, but the sale isn't finalized)
A great real estate agent will factor in value adjustments (square feet, beds, baths, condition, etc.) between your home and the homes your agent included. 
Buyers use these comparable homes to inform their offer price, placing weight on ones that recently sold.
And so should you.
6. Fill out your selling disclosures 
Homeowners must disclose certain information about their property when selling. 
These disclosure documents are meant to provide details about the property's condition that a potential buyer might find problematic.
Here are some examples of things you'll be required to disclose when selling your home:
Water damage
Neighborhood noise
Environmental contamination
Potential risks from natural disasters
Repairs
This is important: Never intentionally hide anything.
Doing so could result in a lawsuit.
It's always better to over-disclose than under-disclose when selling a property.
Your agent will provide you with the necessary documents and guide you through the process.
7. Show your home to prospective buyers
Showing your home to prospective buyers will start after your agent lists your home on the multiple listing service (or, "MLS").
This is a key step in the selling process because at this point you'll start to see how much demand there is for your home. 
Be flexible and make it easy for buyers to tour your property.
It will increase your odds of getting an offer in the shortest time frame. 
Open houses
Open houses are typically scheduled for two to four hours on Saturday and Sunday.
On any showing day, aim to keep your house looking like it does in the photos.
Spotless. Well-lit. Basking in natural light.
Importantly, remove all clutter from the house.
Buyers will see your house from a different point of view — and the smallest nuance can make a big difference.
Private showings
Private showings can be arranged for buyers who can't attend an open house or want to view your home before others.
Your real estate agent can work around your schedule if you're living in the property while it's on the market. 
And keep in mind that it's never a good idea to be at your home while potential buyers are viewing it.
Many buyers will feel uncomfortable asking their agent questions if you're present. 
8. Review and accept an offer
A buyer will put an offer in writing via a purchase agreement as soon as they're committed to buying your home.
Your agent will receive the offer from the buyer's agent and discuss the details with you. 
You're probably thinking the purchase price is most important (most sellers do).
But there are other factors you should consider before accepting an offer. 
Buyer's pre-approval and proof of funds
A buyer's offer should be accompanied by a pre-approval letter and proof of funds.
A pre-approval letter doesn't guarantee the buyer's financing, but it's the biggest hurdle they'll need to clear before obtaining a mortgage.
The buyer's recent financial statements (proof of funds) help verify that they have enough for their:
Down payment
Closing costs
Deposit amount
The buyer must state how much they'll provide as a deposit.
The "standard" amount varies but is usually 1-3% of the purchase price.
As a seller, you want to see the deposit made within 72 hours after the contract is ratified.
Contingencies
A buyer has the option to make their offer contingent.
This is an important factor for a seller to weigh when receiving an offer.
Here's why…
A contingency allows the buyer to back out of the sale (during the contingency time frame) and get their deposit back.
So, even if you get an exceptional offer, it doesn't mean much until the buyer removes their contingencies. 
And even when they do, they can still back out of the sale.
But it's less likely because they'll risk losing their deposit to you.
Here are the most common contingencies you might see from a buyer:
Loan
Appraisal
Inspection
Sale of another property
9. Start the closing process
There are several steps to selling your house after you accept an offer and before the transaction is final.
Here are a few important milestones you should be aware of that start the process of closing a home sale.
Buyer's appraisal
Your property will become collateral for the buyer's loan.
This is why lenders require homebuyers to get an appraisal — so they can ensure that a seller's home is worth the price being paid. 
The buyer's loan officer will start the process by ordering the appraisal.
And your agent should keep you informed once it's scheduled.
There's no need to stress about cleaning your home before the appraiser arrives. 
Your home's cleanliness has zero impact on the appraised value.   
Buyer inspections
The buyer can opt to have their own inspections, whether they included a contingency in their offer or not.
And they may ask for certain repairs or negotiate the price if they did.
That's why having a home inspection completed before listing your house is one of the best tips for selling your home. 
Release buyer contingencies
The seller clears their biggest hurdle once a buyer formally releases contingencies.
Why?
Releasing contingencies puts the buyer's deposit at risk, therefore making the transaction less likely to fall through.
10. Close the sale
The final step to selling your house starts after the buyer releases their contingencies. 
For many sellers, this happens about two weeks before the sale is final. 
Here are a few tasks you'll want to be aware of so you can complete the process.  
Buyer's final walkthrough
The buyer will conduct a final walkthrough of your property with their real estate agent several days before closing.
So you'll want to make sure that your house is in the same condition as when the buyer first saw it. 
Signing final documents
Typically, it takes two to five days from the time a seller signs their closing documents to when the home sale is official.
These are the two things you'll need to bring with you when signing the necessary paperwork:
Valid, government-issued photo ID
Banking information, if you'll have your proceeds wired
Some states require an attorney during the closing process.
So you may have a real estate attorney by your side to look over the final documents.
Prep for closing
Here are a few things you'll want to do before the sale is final:
Remove all personal property from your home
Take utilities out of your name
Cancel your homeowner's insurance
Update your mailing address
Make the sale official
The sale of your home becomes official once the deed is recorded and ownership is transferred.
You can expect to receive your proceeds shortly after this.
You'll have two options to collect your money from the escrow company:
Cashier's check
Wire transfer
That's it.
At this point, you can officially say you've sold your home to its new owners. 
Selling a house FAQs
There's a lot to consider when selling a home. Here are some of the most common questions from home sellers just like you. 
What makes a house hard to sell?
Factors that make selling a home hard to sell can vary. The most common ones are not setting a realistic price, a poor layout or floor plan, structural issues, lackluster curb appeal, a dated interior, and/or an undesirable location.
Can I sell my house without a realtor?
You can sell without a realtor, but keep in mind this comes with risks.
The home selling process can be both time-consuming and stressful, not to mention that it is one of the most important financial decisions you'll ever make. Selling "for sale by owner" (FSBO) may save you a few bucks on paying a listing agent's commission, but overall, selling without an agent can cost you money, time, and stress.
Can you sell a home with a mortgage?
Absolutely! Many homeowners end up selling a house with a mortgage balance. Look at your most recent mortgage statement to see how much you owe — just remember the final payoff will be higher due to accrued interest (along with any payoff fees or prepayment penalty).
Do you keep all the money when you sell your house?
You can estimate your home sale proceeds by deducting closing costs and your remaining mortgage balance from the sale price. Anything owed on your property — mortgage or line of credit balance, property taxes, sewer/trash bills, or liens — gets paid at closing. You can use our home selling calculator to estimate how much you might make.
The Bottom Line
Selling a house can feel like an overwhelming process.
But following these 10 steps can boost your chances of having the most successful sale.
If you're looking for support in the home selling process, you can try our free agent-matching service to get the right agent to guide you.