Selling your house might be one of the most stressful experiences you'll ever go through. How do I know?
Because before SoldNest, I was a realtor.
And I can probably write an 800-page book about the emotional roller coaster I've seen many home sellers ride.
If your thought process is similar to theirs, you're probably starting to ask questions such as:
What are the steps to selling your home with a realtor?
Where do I start?
Which steps are most important?
And more importantly, "How can I make the process easier while still selling my house for the best price?"
In order to do that, you need to do two things:
Understand the steps involved in selling your home
Follow through on the key steps that you have control over
I'm going to help you with number one.
But it will be up to you to commit to number two (I'll tell you which steps these are).
Accomplish both and you'll have a complete step-by-step roadmap that will make the process of selling your home as simple as ABC.
Well, almost that simple.
Here are the 13 steps to take to sell your house with a realtor in 2023.
1. Hire the right real estate agent
Selling a home is more overwhelming than most homeowners think.
But finding the right listing agent at the start can make it a whole lot easier. Plus, they can help you plan in advance to determine the best time to sell.
So, how do you define "right?"
An experienced real estate agent who will look out for your best interests.
These are the real estate agents who will maximize your proceeds and help alleviate your stress.
But the key is choosing the right realtor. Do these three things to maximize your chances of getting a local expert who will put you first.
Look at more than just the agent's experience
A realtor with recent (and relevant) experience is a must – so make sure your real estate agent has experience selling homes like yours and in your area.
But an agent's experience isn't correlated to whether they'll prioritize your interests.
So don't solely base your decision on how long an agent's been in business or how many homes they've sold.
Instead, dig deeper when you initially meet with real estate agents by making sure you do this…
Ask the right questions and get the right answers
You're hiring someone to represent you in what is probably your largest financial transaction.
Get this decision right and it can pay off big time.
One way to help you do that?
Ask the right questions when interviewing real estate agents to sell your house. But more importantly, listen for the right answers so that you're confident you're hiring someone who will look out for you.
Don't get locked into a contract
When you're ready to hire a realtor, you'll sign an exclusive listing agreement with them.
The agreement is a legally binding contract that isn't easy to cancel.
This gives agents the security of a commission check and allows the busy ones to look at your sale as just another number.
So before signing the listing agreement, make sure your agent gives you the option to cancel at any time.
Having the option to do so increases your chances of selling your home with a real estate agent who will put in their maximum effort.
2. Strategize a gameplan with your realtor
Whether you're selling and buying at the same time or selling after buying, designing a home selling plan with your real estate agent is key to putting you in the best position for the most successful home sale.
There are four things you and your realtor will want to discuss early in the process to help you do that.
Estimate your potential selling price
Approximating your home's sale price from the get-go does two things:
1) Gives you the number you need to estimate your proceeds so you can better plan for your next move.
2) Allows you to see if there's a difference in market conditions from now until the time you put your house on the market.
Most real estate agents will put together what's called a "comparative market analysis."
This is an analysis that compares your property to other similar properties that are currently on the market, are pending, or have recently sold.
You'll get their expert opinion about what they think you should list your home at and why, but you don't need to make a final decision on this yet. That comes in a later step.
Estimate your costs and proceeds
You can estimate how much you might make from the sale of your home by asking your agent for an estimated net sheet.
You can also use our home sale calculator to see what this number might look like.
The estimated net sheet will show your estimated "closing costs" and net proceeds. Here's what it looks like: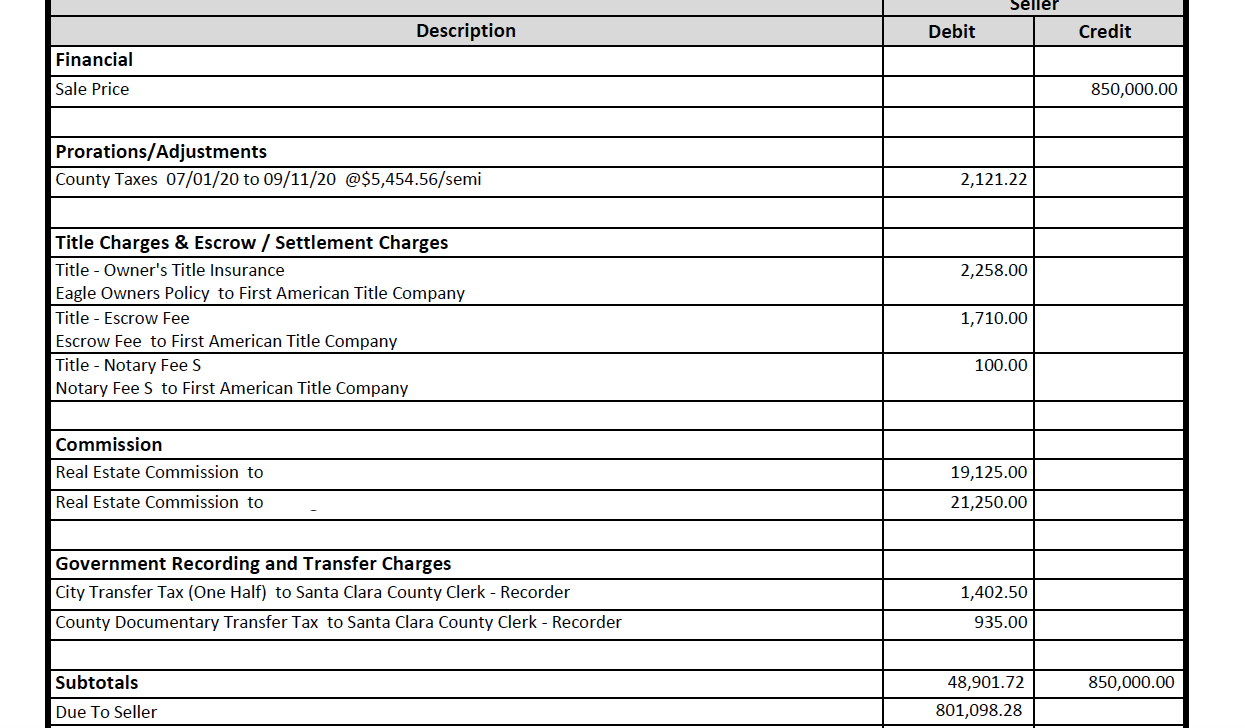 Some of the costs you'll see listed include realtor fees, escrow and title charges, a notary fee, and others.
These closing costs are paid through the proceeds of the sale, meaning you don't pay them up front.
Knowing how much you might net from the sale of your home will help you get a head start on budgeting for your next move.
Plus, it will give you an idea of whether you need to pay capital gains taxes. Confirm this with your tax person, but generally, all of your closing costs are tax-deductible when you sell.
Determine the best ways to prep
Lean on your real estate agent for expert advice about how they can make the prepping process easier and more profitable for you.
Some of the things you might discuss include:
Decluttering
Making repairs
Improvements
Cleaning
Staging
Once you and your realtor discuss what should and shouldn't be done, you'll want to put a tentative schedule together.
Set a timeline for selling your home
Selling a home can take two to three months from start to finish – or longer depending on market conditions, how much you list your home for, and how long it takes you to prep.
Set dates with your realtor for everything that needs to be done before putting your house on the market.
These tasks might include:
Finish packing
Inspections
Finish repairs/improvements
Cleaning
Staging
Photo shoot
Mapping a timeline of what needs to be done and by when will give you a better idea of how long it's going to take to prepare your house for sale.
But it also gives you a target date of when your home will be listed, providing clarity toward the end goal of getting your home sold.
3. Get a pre-sale home inspection
Having a home inspection completed before selling your house is one of the best investments you can make.
There are two reasons why:
Potential buyers will feel more confident when submitting their offer.
It reduces the chances of the buyer asking you to repair something after their offer is accepted.
The cost for a home inspection can range anywhere from about $300 to $700 (depending on the area you live in and the size of your house) and usually includes:
Foundation and other structural elements
Basement
Attic
Electrical
Plumbing
Water heater
Floors
Windows and doors
Heating and cooling systems
Windows, ceilings, and walls
Roof
The inspector will need access to the attic, crawlspace, water heater, and garage walls.
So before they visit your home, make sure these are easily accessible.
Go over the inspection report with your real estate agent and get their advice about whether there are any repairs worth making.
Repairs are optional, but the lower the number of necessary repairs that buyers see, the more attractive your home looks.
4. Prepare your home for sale
Getting ready to put your house on the market can be emotional.
But removing your emotional attachment will give you the best shot at selling your home for top dollar.
So as you start to get your home ready to sell, start thinking about this as a business transaction.
Because that's what it is.
The goal is to attract buyers and sell your home for the best price in the shortest amount of time.
Removing the emotional aspect as you go through the prepping process will help you do that.
Declutter and maximize your space
Decluttering is probably going to be your most time-consuming task, especially if you've lived in your home for a long time.
But it's a task that will pay off for you.
Why?
Because homebuyers love extra space and storage. Start by getting garbage bags and boxes. Go room by room and make several piles:
Stay focused and finish one room before moving to the next. Anything you keep can be stored in the garage (this is common, and many buyers expect it).
Make minimal repairs
Tackle the repairs that your real estate agent says are worth making.
You can probably find every service professional you'll need for these on HomeAdvisor, Porch, and Thumbtack. You can also ask your agent for recommendations to service pros.
Once you've made the necessary repairs, make a list of the items you took care of and give them to your realtor.
They can attach this list to the home inspection report so that potential buyers are aware of the items that have been fixed.
Only make money-making improvements
The four upgrades that will usually increase a home's value and make the most money when selling a house are:
Flooring
Stainless steel appliances
Front yard landscaping
Interior paint
A fresh coat of paint and an enhanced curb appeal are most common. But not all improvements pay off – so don't waste time over-improving.
Ask your real estate agent which improvements will boost your sales price and get you the greatest return on your investment.
Then determine if the amount you can add to your home's equity is worth the time and upfront cost.
Deep clean and make your house shine
The cost for deep cleaning will depend on your area and the size of your home, but you can expect to pay somewhere between $200 and $600.
Or you can take the DIY approach.
If you do, here's a list of what you'll want to make sure you clean:
Walls
Baseboards
Floors
Showers
Sinks
Toilets
Grout
Vanities
Door handles
Appliances (including inside of oven)
Countertops
Cabinets (including inside shelving)
Windows (inside and outside)
Window coverings
Vents (and replace filters)
5. Stage your home
Look at this home: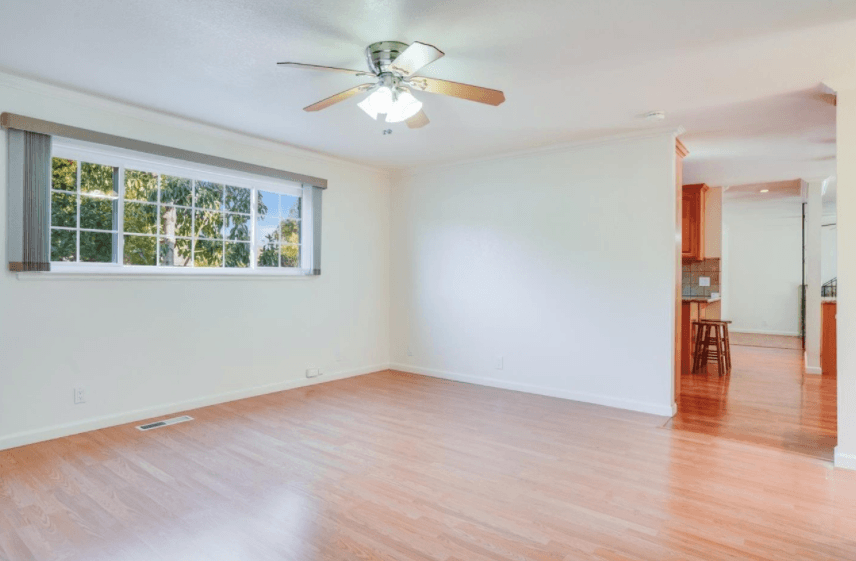 Now look at this one: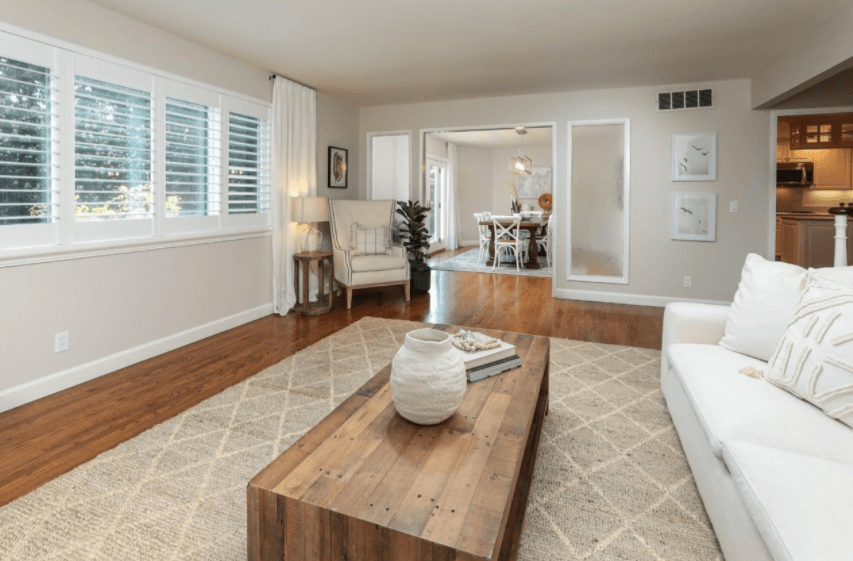 Pretty big difference, right?
You shouldn't think twice about staging your home if it's going to be vacant when selling.
Online photos of a vacant home make a bad first impression.
And a bad first impression can drastically reduce buyer interest.
You should also consider hiring a professional stager if you plan on living in your house while it's on the market (some stagers will mix and match your furniture with theirs).
Ask your real estate agent for recommendations to home stagers.
Many of them will provide a free consultation and make suggestions about which furniture can stay and which should go.
6. Take high-quality photos
A great photographer will take quality photos that will make your home look better than it really is.
This is important.
Why?
Because according to the National Association of Realtors, 90% of home buyers search online.
This means your photos (and the home's price) will be the first thing home buyers see.
And professional photos that can maximize your home's appeal will get more of those buyers interested.
Most real estate agents will include professional photos in their marketing plan, so you can expect your agent to coordinate the photo shoot.
Here's what you'll want to do to prepare:
Make sure your house is clean.
Turn on all lights.
Open all window coverings.
Have any negative property characteristics or features such as high-voltage lines, a really small stall shower, or maybe a backyard that needs work?
Make sure that your realtor tells the photographer to not include these in the photos.
7. Complete your selling disclosures
You're required to disclose certain information about your property on specific disclosure documents.
These disclosures are meant to give potential buyers information about the property that could have a negative effect.
Here are a few examples of what you'll be required to disclose:
Water damage
Neighborhood noise
Environmental contamination
Potential risk from natural disaster
Repairs
Death in the property
HOA information
And here's an example of what one of these disclosures looks like: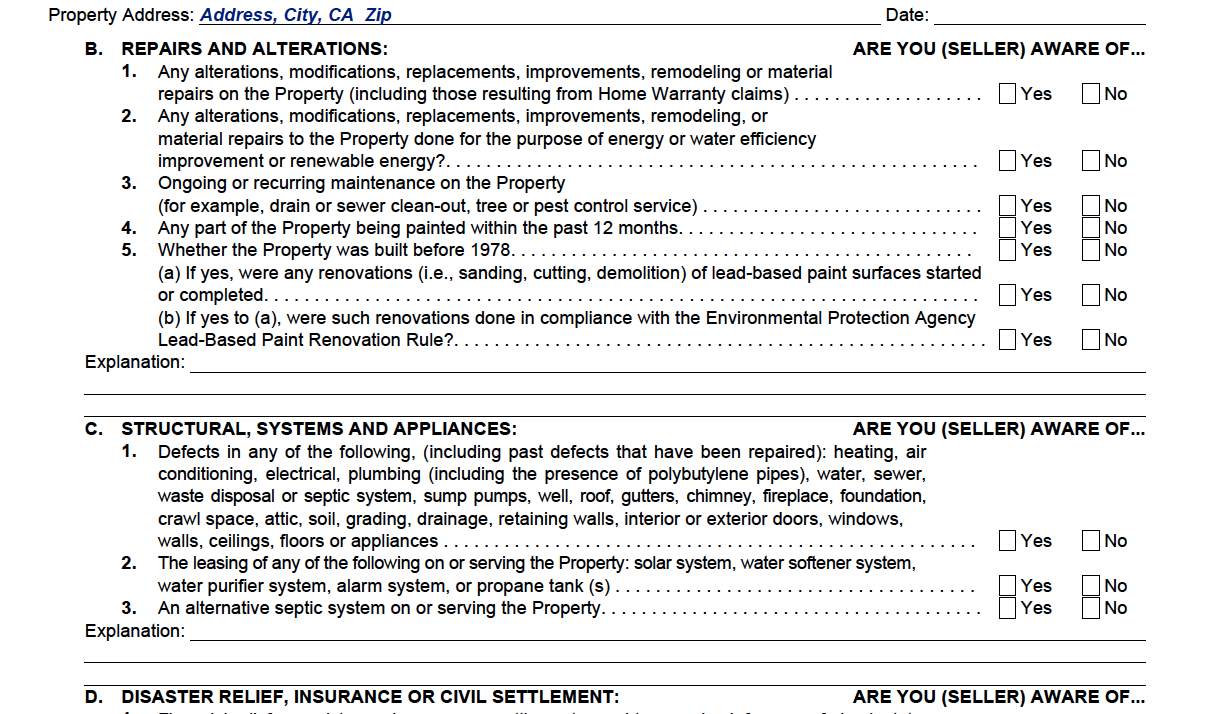 Your realtor will be able to provide these disclosures to you and guide you through the process of what you need to fill out.
Keep this in mind: Do not intentionally hide anything.
Doing so could bring a lawsuit from the buyer.
It's always better to over-disclose than to under-disclose when selling your home.
8.  Set the best listing price
Your home is worth what a buyer is willing to pay for it.
But the number you price your home at can help attract more buyers AND maximize your sale price.
Some sellers don't realize this.
They're under the impression that the "asking price" is the maximum amount they can get for their home. That's not how it works.
If done right, your "asking price" can be used as bait to "lure" more buyers.
Then it's your agent's job to create urgency and maximize that price.
This is one reason why having an experienced realtor who cares about making you the most money is crucial. But it all starts with setting a realistic price that isn't too high or too low.
Strategize with your real estate agent by doing this…
Get an updated comparative market analysis from your realtor
A market analysis is going to compare your home to:
Recently sold properties
Properties that are currently for sale
Pending home sales (seller accepted an offer, but the sale hasn't closed yet)
Buyers will look at these same comparable homes before determining their offer price and will put more weight on the ones that have recently sold.
So you should do the same.
The properties that are pending are good to look at because they'll give you insight into how long it took for the seller to accept an offer.
And the ones that are currently on the market will be your competition.
Finalize a good price with your agent, and you'll maximize your chances of getting a top-dollar offer sooner than you think.
9. Show your home to prospective buyers
Showing your home to prospective buyers is a key step in the selling process.
Being flexible and making it easy for buyers to tour your home will boost your chances of getting the best offer.
Open houses
Most open houses are scheduled for two to four hours on Saturday and Sunday.
A Friday evening twilight open house can also work well.
On the day of an open house, aim to keep the appearance of your house similar to what it was for the photos.
Clean. Turn on all the lights. Open all of your window coverings to show as much natural light as you can.
And remove anything that takes up space.
Remember, buyers will be viewing your house from a different point of view. So even the smallest things can make a big difference.
Private showings
Sometimes buyers can't attend an open house.
Or they want to view your home before others do.
This can be set up through a private showing.
If you're living in the property when selling, you can tell your real estate agent to schedule these only on certain days or certain times of the day.
This will make the showing process a bit easier for you.
And keep in mind that it's never a good idea to be at your home while potential buyers are viewing it.
Many buyers feel uncomfortable asking their real estate agents important questions as they're viewing your property if the homeowner is present.
10. Review offers with your real estate agent
When a buyer is ready to proceed with an offer, they'll put it in writing on a contract, also known as a "purchase agreement."
The offer is submitted to your realtor by the buyer's agent.
Here are a few important things to factor in a buyer's offer in addition to the home sale price:
Buyer's pre-approval
Any offer from a buyer should be accompanied by a pre-approval letter and proof of funds.
The pre-approval letter doesn't guarantee the buyer's financing, but it's the biggest hurdle that any buyer needs to cross when obtaining a mortgage for a purchase transaction.
The proof of funds is usually page one of the buyer's most recent financial statements.
These verify that the buyer has enough for their:
Down payment
Closing costs
Remaining assets that will be required from their lender
Deposit amount
The offer contract requires the buyer to state how much they'll put down as a deposit into escrow.
The "standard" amount varies depending on where you live, but the usual amount is 1-3% of the offer price.
Contingencies
The buyer has the option to include one or more contingencies in their offer.
A contingency is a condition in the real estate contract that must be met to make it binding.
The three most common contingencies from homebuyers are:
Making an offer contingent on the sale of a property is another contingency.
You need to know these because a contingency allows the buyer to back out of the sale (for that contingency reason) and get their deposit back.
This means that you can get an exceptional offer price, but it doesn't mean much until the buyer removes their contingencies.
And even when they do, they can still back out of the sale.
But it's much less likely because their deposit is at risk.
11. Negotiate with the buyer
A good real estate agent is going to negotiate for you as if your money is their money.
These negotiations can happen in two different scenarios.
Negotiating before you get an offer
Your realtor might talk about price and terms without you knowing.
This happens when the buyer's agent initiates the conversation before putting the offer in writing.
In most cases, they're trying to see if your agent will reveal a low number while downplaying just how interested their buyer is.
But in reality, they have a buyer who wants to move forward with an offer.
The best realtors know exactly how to take advantage of this.
They swing the negotiations in your favor by knowing what to say to the buyer's agent and when to say it.
Negotiating after you get an offer
Negotiating with the buyer after receiving an offer is done on a counteroffer form.
This is the seller's response in writing to the buyer's offer. And the price isn't the only thing you can negotiate with the buyer – you can negotiate anything the buyer included in their offer.
For example, let's say you received an offer with the following price and terms:
$1,100,000 purchase price
14-day inspection contingency
30-day close of escrow
Deposit made within 72 hours after acceptance
You and your realtor discuss it, and you think the best approach is to send the buyer a counteroffer for $1,120,000 and no inspection contingency.
Here's what that would look like on a counter offer:
12. Accept an offer and start the closing process
After accepting an offer from a buyer, there are several steps that need to be completed before the sale is official.
Let's break these down so you know what to expect.
Appraisal
Your property will be used as collateral for the buyer's loan.
So their lender will want to make sure that your home is worth the price the buyer is paying.
The buyer's loan officer will start the appraisal process by ordering the appraisal (the buyer pays for it).
Your real estate agent will let you know the day and time that the appraiser will be at your property.
They usually take ~30 minutes, and there's no need to stress about cleaning beforehand.
Complete buyer inspections
The buyer can choose whether they want to have their own inspections completed, whether they included an inspection contingency or not.
But from a seller's perspective, it mostly only impacts the sale if the buyer included an inspection contingency in their offer.
If they did, they may ask for certain items to be repaired or try to negotiate the price, depending on the outcome of the inspection report.
That's why having a home inspection completed before listing your house for sale is one of the best tips when selling your home.
It can help convince the buyer that they don't need to spend additional money on another inspection.
Release buyer contingencies
Having a buyer release their contingencies is the biggest hurdle for a home seller.
Why?
Because the buyer's deposit is at risk once their contingencies are released.
The buyer's agent will send the seller's agent a contingency release form stating that the buyer is releasing any and all contingencies.
13. Close the sale
There are several important steps that need to be completed about 1-2 weeks before the scheduled closing date.
The buyer's final walkthrough
One of the first steps of the closing process is having the buyer conduct a final walkthrough of the property.
They'll do this with their real estate agent several days before the closing date.
This walkthrough is not a contingency.
The purpose is for the buyer to acknowledge that the property is in the same condition as when they first saw it.
Sign the final documents
You'll sign the closing documents with a notary and will need to bring the following with you:
Legal photo ID
Account and routing numbers of where you want your funds wired to
Some states require hiring a real estate attorney during the closing process.
The real estate attorney is there to look over the contract and final documents that will officially transfer the property to the new buyer.
Get ready for closing
There will probably be ~2-5 days between the time you sign and the day that the sale of your home is official.
You can use this time to do the following:
Remove everything from your home that is not included in the sale
Get the house cleaned
Take the utilities out of your name
Cancel your homeowner's insurance
Update your mailing address
Funding the buyer's loan
If it all looks good, the lender will wire the buyer's loan amount to escrow.
This is called "funding." Once escrow has all of the funds (buyer's initial deposit + remaining down payment + loan amount), they prepare for their final step — closing.
Time to make the sale official
The sale of your home will be official once the grant deed is recorded in the county where your property resides.
The escrow company will take care of this and notify your real estate agent once it's official. There are two ways to collect your proceeds:
Cashier's check
Wire transfer
If you requested a cashier's check, you should be able to pick it up later in the afternoon on the day of closing, or at the latest, the next morning.
If you requested a wire transfer, you should see the funds hit your account no later than the morning after closing.
Conclusion
Selling your house involves numerous steps that can be overwhelming.
Especially if it's your first time.
But the process can be easier if you contact a real estate agent at the right time. 
The best listing agents can take the weight off your shoulders and will sell your home as if it's theirs.
Follow these steps when selling your house with a realtor and boost your chances of having the most successful home sale.