Find your best listing
agent in minutes
SoldNest is an exclusive network of the most reputable real estate agents. Our matching engine instantly finds the three agents best matched to sell your exact home.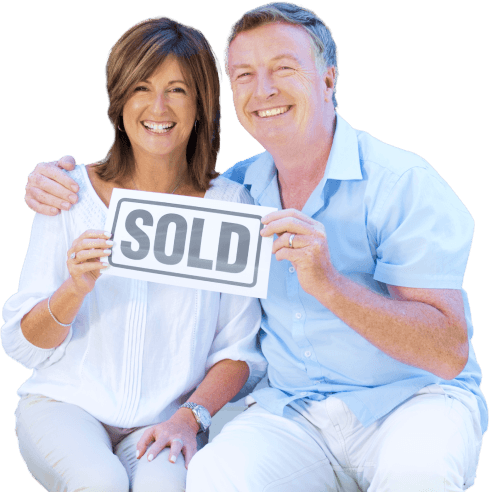 Skip the guesswork and empty promises
When it comes to finding a realtor, most home sellers today are guessing. They scour the internet for agents, ask someone they know for a referral, and assume that an experienced realtor will get them the best results. That's a great way to get stuck with a bad real estate agent.
Unlike other experienced agents, the most reputable agents don't like to represent the seller and buyer in the same transaction to get a higher commission. Instead, they prioritize making sellers more money. And their performance history shows they set the most accurate listing price, helping them sell homes faster and for top dollar.
The good real estate agents are the ones you don't need to worry about. They make you feel comfortable throughout the entire selling process and make you a top priority.
If you're ready to stop guessing which real estate agent is best to sell your home, leverage our pool of vetted professionals to find your perfect match.
Are they only going to care about a commission?
Will they over or underprice my home?
Are they going to let my house sit on the market?
Will they actually care and do what they say?
Have confidence you've picked the best agent to sell
5x
The number of properties sold annually compared to the average real estate agent
The percentage of listings where they've only represented the seller (and not the seller and buyer)
107%
The average sold to list price ratio, indicating they don't over or underprice compared to other agents
*The numbers displayed are the average for all agents in our network. Last updated Sep 23, 2022.
We were overwhelmed when searching for a realtor to sell our home, but SoldNest made it easy. The service our agent provided was excellent from start to finish and we sold for $80,000 more than our asking price!
Joe and Peggy N.
Boise, ID
My husband thought we'd get attacked with realtor calls and emails but that didn't happen. We requested to get matched with two and both realtors were really impressive. We hired one of them and are very grateful we did.
Erin and Rick R.
Discovery Bay, CA
The outstanding 5 star service went way beyond what we've experienced with other realtors we've used to sell our property. We are impressed with the SoldNest business model and highly recommend using them to find a realtor.
Eddie and Lucilla D.
San Jose, CA
Any real estate agent can say they're the best. We make sure they actually are.
What you get when you hire an agent through SoldNest
At SoldNest, we know you have to get this decision right. We're industry experts who know what separates the good agents from the bad ones.
When you hire a realtor who has made it past our screening process, you don't just get a top listing agent who will look out for your best interests. You get an agent who has a proven selling methodology to sell your home quickly and for the best price. Because that's what you really care about.
Relevant selling experience
We merge home sale data with your property attributes to help you get a reputable agent with experience selling in your area and around your price point.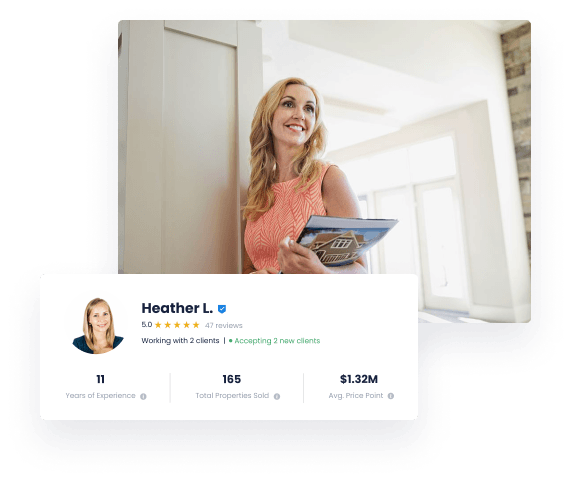 We do the vetting.
You do the choosing.
Answer a few questions
Tell us about your property and selling needs. You'll immediately know if we have potential matches in your area and around your price point.
Get introduced
We'll introduce you to 1-3 agents (you choose) in our network who are best matched for you and your exact home, typically within 24 hours.
Pick your perfect match
Discover their plan to get your home sold quickly and for top dollar. Choose the agent who you think is the right fit, whenever you're ready.
The SoldNest guarantee
Part of our mission at SoldNest is to empower home sellers with the confidence to make smarter decisions. This is why we require every agent who is accepted into our network to never lock you into a contract.
When you use SoldNest to find your best real estate agent, you can rest assured we have your back. Period. No spam. No sales pitch. No cost. No obligation. You get unbiased recommendations, without the barrage of spam from real estate agents that other realtor search platforms make you go through.
No pressure or obligation
No agent contract commitment
How SoldNest qualifies your most reputable agent
Each agent who applies (or gets invited) to the SoldNest network must pass a vetting process designed to measure their integrity, experience, marketing strategy, and course of action when working with a home seller. We utilize a combination of real estate agent transaction data, online reviews or client interviews, and agent phone or video interviews to discover which applicants meet our requirements.
Every day we receive numerous applications and turn down many top-producing agents because their track record indicates they don't prioritize a seller's best interests. To date, a little more than 3% are accepted into our network and then are able to stay SoldNest Verified.