Get the maximum
price for your home
SoldNest is an exclusive network of top-performing real estate agents. Discover which agents are best qualified to quickly sell your house for top dollar.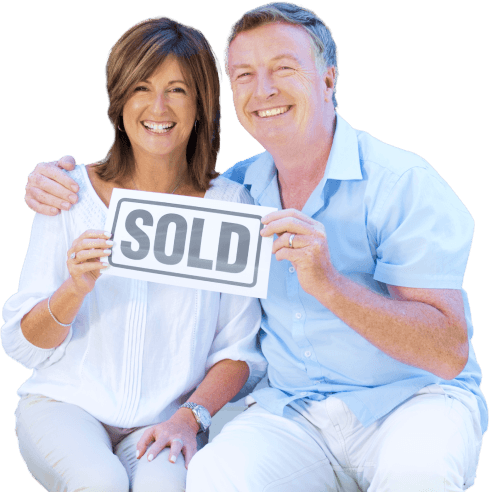 Want top dollar? Who you sell with matters
These days, any agent can sell your home. Getting the maximum price, on the other hand, requires a reputable agent with a top-performing track record.
SoldNest utilizes a screening process that analyzes real estate agent transaction data, online reviews, and agent interviews to determine the agents best qualified to sell fast and for the most money.
The agents accepted into our exclusive network are proven professionals, with no need for pressure tactics, and they're so confident they can quickly get you top dollar that they don't require long-term contracts. You can cancel your agreement at any time!
Top-selling in your area and near your price range
Highly-rated reviews from sellers
History of only representing the seller (and not the seller and the buyer in the same sale)
We were overwhelmed when searching for a realtor to sell our home, but SoldNest made it easy. The service our agent provided was excellent from start to finish and we sold for $80,000 more than our asking price!
Joe and Peggy N.
Boise, ID
My husband thought we'd get attacked with realtor calls and emails but that didn't happen. We spoke to two realtors and we were impressed with their approach to get us a good price. We hired one of them and are very grateful we did.
Erin and Rick R.
Discovery Bay, CA
The outstanding 5 star service went way beyond what we've experienced with other realtors we've used to sell our property. We are impressed with the SoldNest business model and highly recommend using them to find a realtor.
Eddie and Lucilla D.
San Jose, CA
Any real estate agent can say they get top dollar. We make sure they actually do.
Get the best qualified agent.
Sell for the best price.
Each agent who applies (or gets invited) to the SoldNest network must pass a vetting process designed to measure their integrity, experience, and selling methodology. We exploit unique agent data points and seller feedback to help us determine which agents are best qualified to sell your home for the maximum price and in the shortest amount of time. To date, a little more than 3% are accepted into our network and then are able to stay SoldNest Verified.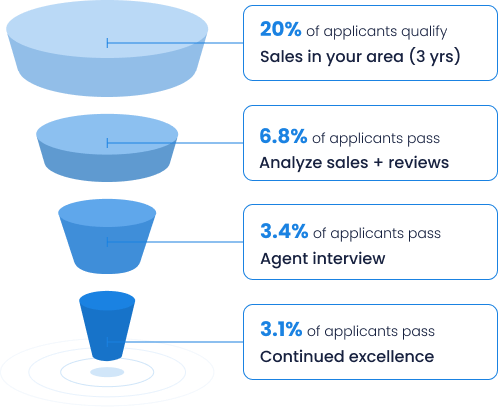 The best way to sell your house for top dollar
Find your best agents
Tell us about your property and selling needs. You'll immediately know if we have agents in our network who are best qualified to get you top dollar.
Pick your perfect match
Compare agents and their plans to sell your home for the highest price. Then, whenever you're ready, choose the agent who you think is the right fit.
Make more money
Have confidence you've picked the right agent to get you top dollar, and enjoy a home selling experience knowing you will walk away with more money.
How SoldNest agents help you get top dollar
At SoldNest, we know that you need to sell your house for the maximum price. We also know that trusting an agent to help you do that isn't easy. We're industry experts who know what to look for in an agent to determine if they're best qualified to make you the most money.
Here are a few things you can expect when you leverage our pool of vetted experts to sell your home…
Your best interests above a higher commission
Home appearance optimization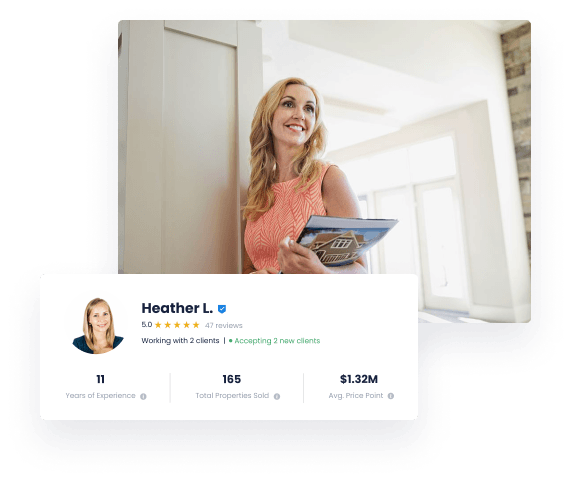 Explore resources to help you sell for top dollar