Find the best listing
agent in your area
We screen local real estate agents so you can get the
one best matched to quickly sell your house for the maximum price.
Top selling in your area
Highly rated
Prioritizes a seller's best interests
No contract commitment
The listing agent you choose matters
Selling your home for the highest price in the shortest amount of time requires a local realtor who has experience selling homes like yours, a proven track record of prioritizing a seller's best interests, and won't lock you into a contract.
Our unique (and no-cost) screening process ensures you find a realtor who meets that key criteria. Our analysis includes crucial real estate agent sales data, client reviews, and agent interviews. The best part? You're not just finding a listing agent. You're securing a partner who will put you first. Because that's what you really care about.
Discover Your Advantage
With SoldNest
The smarter way to find a listing agent
Answer a few questions
Tell us about your property and selling needs so we can narrow the agent search to find your best match.
Discover your best agent
We'll show you why each agent (up to 3) is best matched for you and your home, typically within 24 hours.
Hire with no risk
Hire with confidence knowing you aren't locked into a contract — cancel at any time, without owing any commissions.
We were overwhelmed when searching for a realtor to sell our home, but SoldNest made it easy. The service our agent provided was excellent from start to finish and we sold for $80,000 more than our asking price!
Joe and Peggy N.
Boise, ID
My husband thought we'd get attacked with realtor calls and emails but that didn't happen. We spoke to two realtors and we were impressed with their approach to get us a good price. We hired one of them and are very grateful we did.
Erin and Rick R.
Discovery Bay, CA
The outstanding 5 star service went way beyond what we've experienced with other realtors we've used to sell our property. We are impressed with the SoldNest business model and highly recommend using them to find a realtor.
Eddie and Lucilla D.
San Jose, CA
Finding the right realtor can mean the difference between a
quick and profitable sale, and a long and frustrating process.
Elevate your home selling experience
At SoldNest, we know you have to get this decision right. We're industry experts who know what separates the exceptional real estate agents from the rest.
When you choose a listing agent who made it past our vetting process, you won't just get a local agent who has experience selling in your area. You'll get a top real estate agent who has the right qualities to ignite an exceptional home selling experience.
Experience an easier sale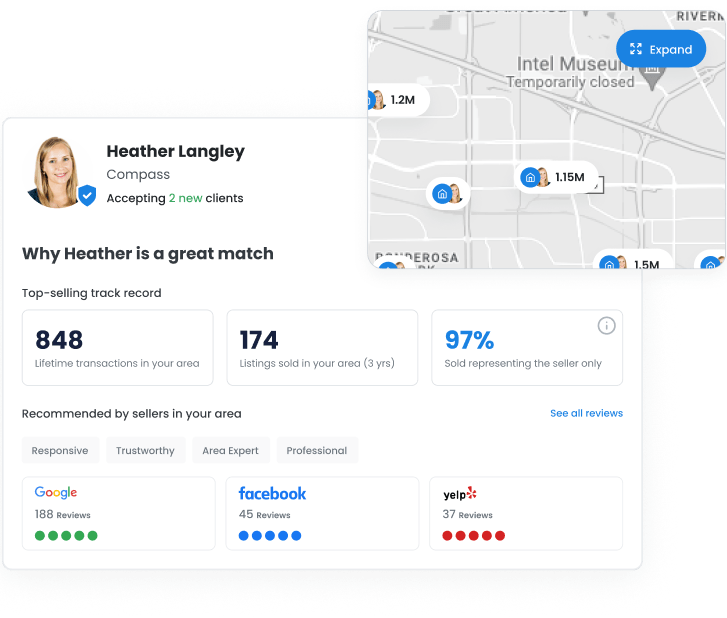 Explore resources to help you choose the best listing agent